4 Kenya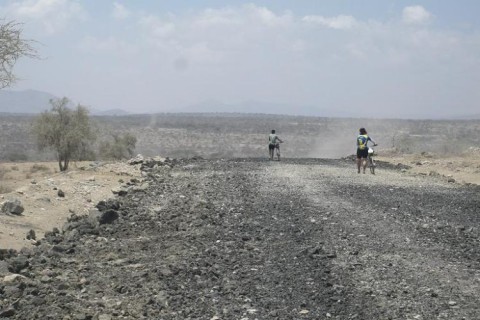 Feb. 25 –WHAT A MOUNTAIN BIKE LIKES TO DO- Moyale to Soliolo 80 km- I had a blast cycling the rough and rocky corrugated roads today! My mountain bike handles brilliantly in these conditions. At one point the dinner truck passed me and I noticed 6 riders on board whose slick road bikes were ill equipped for today's road conditions. I couldn't resist showing off and I cranked up my speed. In the rough conditions it took the huge truck about 15 minutes to pass me as I was bouncing over rocks and potholes. Yippee! It was fun and I was sure to give a big thumbs-up and an even bigger smile as the truck finally passed me. I hope it doesn't sound petty but it did feel good to know that others were more challenged than me for a change. At dinner I was ravenous and we had large "Flintstone style" hunks of meat for dinner…Mmm, good! We were warned about termites and scorpions in camp but we were paid an unexpected visit from a pack of loud Hyenas digging up the bones and hanging around the grill. It was a bit scary for those that whose tents were pitched about 10 feet away. 
It's not all so glorious-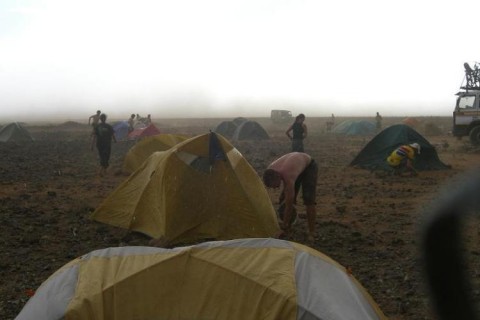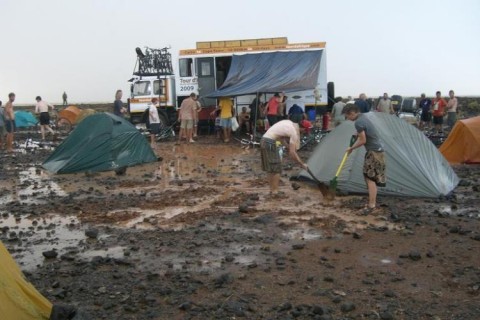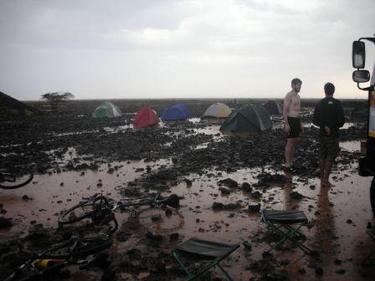 Feb. 26 –THE RAINS DOWN IN AFRICA- Sololo to lava rock camp 85 km- In the morning the staff often plays music to help get us pumped up for the days ride. This morning, prophetically, they were playing that song "The Rains Down in Africa". Leaving Sololo the trees and shrubs became fewer and farther between. By the end of the day, lava rock camp is just that, a barren treeless landscape. Shortly after everyone settled in and pitched their tents between the rocks in the unforgiving sun, huge black clouds moved in quickly. Rain in northern Kenya in February?…unheard of! Suddenly it was a mad scramble with gusty winds howling, dust flying and 60 people trying to get their rain-flys installed on their tents before the downpour. In the knick of time I got my fly clipped in but not staked down. I laid spread eagle inside my little home as I tried to stabilize the structure with the driving wind and heavy rain buffeting it about. After it calmed I emerged from my tent to see the damage that had been done. Many of the tents were now resting in swimming pools. Our fabulous dinner with a special treat of bread pudding for dessert was eaten standing in ankle deep water. It was dreary but hilarious at the same time. I wondered about tomorrow's ride as I watched big trucks splashing walls of water from standing water on the highway. The most difficult segment of the Tour d'Afrique just got harder. 
Feb. 27-IN A RUT- Lava rock camp to Marsabit 86 km- What a misnomer to label this a road/highway! It consists of mud, sand, large 12 inch rocks and smaller lava rock piles so high it's impossible to cross them without falling. You have to get off the bike to change lanes or should I say change ruts. In the first 10 minutes out of camp I selected a rut which appeared to be the lesser of the evils presented to me. Soon however I was covered in mud and there was so much mud packed in my suspension and brakes that the wheels simply would not turn! There's only one way to unpack it and that's by hand…lovely. On the brighter side, biking in these conditions presents opportunities to problem solve. You must remain focused as you select your path and then be prepared to immediately amend your decision…it's definitely not boring. If you tire of the terrain, don't fret it will change in the next few minutes. The background landscape is bigger than life and weaving our way through herds of cattle, being taken to who knows where, is actually quite pleasurable especially because I'm an animal lover.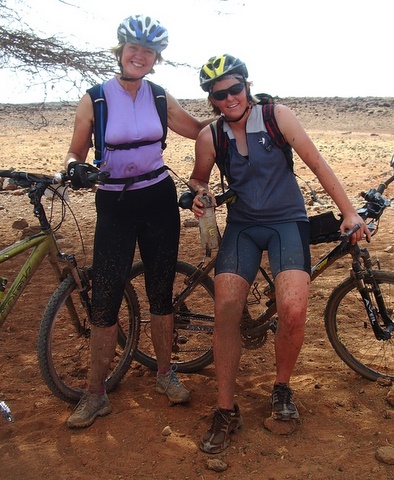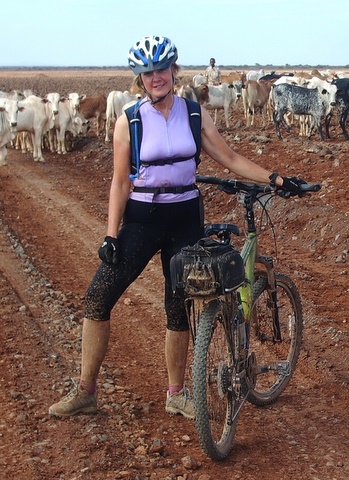 Feb. 28 –REST DAY- Marsabit- Our Kenya Wildlife Service campsite is quite beautiful with large shade trees and there are packs of baboons wandering around. Toilets and bucket showers are available but after 7 days without a rest stop I opt for a tiny room in town with a private hot shower and a flushing toilet with breakfast for $15. Marsabit is a cute little town with thriving small storefronts facing a bumpy, muddy road with cattle roaming the streets drinking from puddles still left from yesterday's deluge. We locate some delicious meals for under $2 and life is good. After 2 weeks of no cell phone reception I finally speak with my husband Jay and I am delighted to hear his voice, learn he is well and absorb his words of encouragement.
Mar. 1 -Marsabit to Laisamis 97 km- It's great to have a day that's not as bad as anticipated. There was a bit of a climb with headwinds and large granite outcroppings but there was more downhill than up and it was not so bad. The Samboro tribe people, accessorized in their colorful beads and textiles, punctuate the beautiful landscape and remind me I'm not in Kansas any more. 
Mar. 2 -EXTREME CORRUGATION- Laisamis to bush camp 87 km- Holy Sh#@*! This is unreal. Other sections of the "meltdown madness" had extremely challenging roads but they offered some reprieve every few kilometers when the conditions changed from one form of suffering to another i.e. loose rocks to ruts to big rocks to mud. Today there was none of that. There were just 2 options: sand that could stop you in your tracks or washboards that could rattle the teeth out of your skull and in temperatures topping 100 degrees Fahrenheit!  It requires every ounce of energy and extreme coordination to push on. We hear that we will be rewarded with ice cream tomorrow…oh goody goody! They need to dangle the carrot in front of the donkeys to keep them moving forward.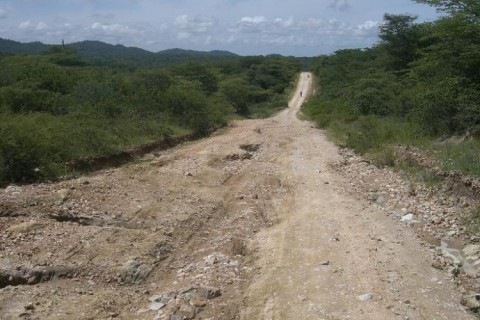 Mar. 3 -bush camp to Isiolo 87 km- Awe crap, I think the plague is finally catching up with me. I rode this morning but had to hop in the truck this afternoon. My scratchy throat turned into a head cold and then a chest cold, fever and all over body aches. I guess I'm luck I lasted this long
Mar. 4 -I TOOK THE TRUCK- Isiolo to NanukiSince- I didn't sleep at all last night and I still have a fever and body aches so I took the truck. It was very disappointing not to be able to ride today because it was the end of the rocks with mostly paved roads. Although the scenery was beautiful with Mt. Kenya in the distance I didn't get to enjoy it all that much because I was lying down in the truck most of the time. Tomorrow we cross the equator and I hope I'm feeling better.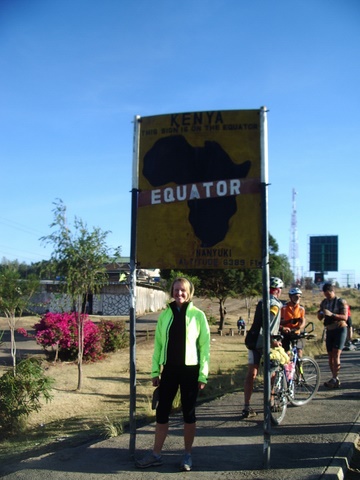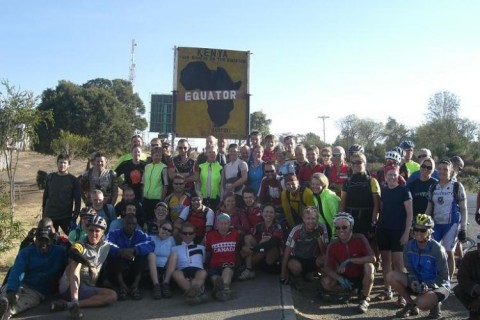 Mar. 5 –EQUATORIAL SURRENDER- Nanuki to Sagana 110 km- Today is supposed to be a great celebration. The Tour d'Afrique crosses the equator, a momentous occasion and I'm riding the truck for the second day in a row, feeling worse rather than better. My temperature is over 100 degrees f. I am coughing non stop and still spend most of the time lying down in the truck. We assemble for a group photo on the equator. This is the first group photo since the start of the trip almost 2 months ago at the Pyramids. That seems like such a long time ago and we're not quite half way done yet. As the group gathers there's an energy of camaraderie that lifts my spirits for a bit but truly I don't feel like going on.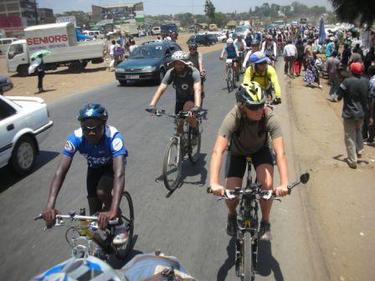 Mar. 6 –GET ME OUT OF HERE- Sagana to Nairobi- It's my third day on the truck and I just want to leave. My fever has not subsided and the aches and pains are ever-present. I'm really glad I'm not riding today because it's always tough riding into and out of huge cities. The convoy is on the all too narrow shoulder again with big city traffic, huge busses and trucks. As we're entering Nairobi I realize this is kind of my home turf. Some of my past African visits have started touching down at the Nairobi airport. I know a few of the Global Alliance for Africa staff that live here as well as a couple of tour operators. The Kilimanjaro climbs usually start here and so do our flights to Lamu Island where we usually relax for 3 days after the arduous climb. Somewhere back in Ethiopia after being pelted with rocks I thought I'll probably need a break along the tour somewhere. Right now 3 days off to rest and get well I think are essential. I've booked a room at the Peponi Hotel, a lovely Inn on Lamu Island and they've got me on a flight tomorrow. If 3 days in Lamu doesn't cure me, nothing will.
Convalescing-
Mar. 7 –OLD PAL- At the tiny Lamu airport, which literally has a grass shack as the terminal, I'm picked up for transport to the hotel. No it's not a taxi as there are no automobiles on the island, it's a dhow boat.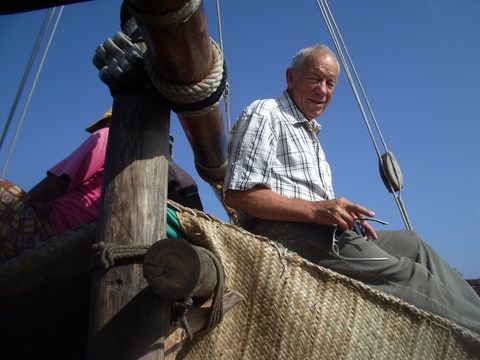 This is a handmade wooden boat with one big sail that looks like something you'd see in a history book. It takes me across the bay and by "downtown" Lamu, a bustling town which is the oldest Swahili settlement south of the Sahara desert. The town was recently designated as a World Heritage site. Bicycles, donkeys and boats are the modes of transportation. As we arrive at Peponi my bags are whisked to my room and Carol, the owner, invites me and Earnest to sit on the veranda overlooking a bay on the Indian Ocean.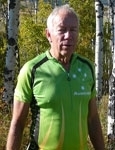 Earnest, a 68 year old Canadian, also decided to take a break from the tour when he heard me describing this idyllic spot. He's lost 30 lbs. and is just plain getting worn out, so the idea of recharging his batteries too was quite appealing. We're each brought an Old Pal which is a tradition at Peponi. It's a vodka summer drink that is really tasty. I'm still coughing and the fever is still hanging on but at least now I have a smile on my face.   
Mar. 8 & 9 -Monday and Tuesday– Peponi Hotel is a dream-like Inn just off the coast of Kenya that has been owned by the Korschen family since 1967. Lars and Carol are the hosts and they have done an unbelievable job of creating a most intimate environment with private rooms tucked into a hillside overlooking the bay. The buildings are all white with flowing white curtains, clean crisp linens and mosquito netting canopies over all the beds. The food is a mixture of traditional Swahili and fresh seafood's prepared in simple ways with ginger, lime and garlic. It's served in traditional British style with white tablecloths, silver service and fresh flowers on the table. Breakfasts are fresh fruits, light pastries, real juices and great coffee or traditional bacon and eggs if you prefer.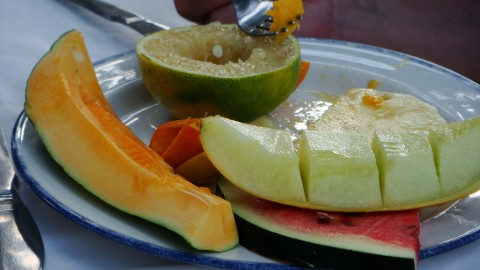 The expat community on the Island congregates in the bar for happy hour before dinner. It is truly a paradise. Carol dotes over me like a concerned girl friend. My fever is still high and I'm coughing up green stuff that's too gross to describe. She gives me a little teapot with warm salt water to flush out my sinuses. You hold your head over the sink, tip your head sideways and pour the water through one nostril and out the other. In India a neti-pot is used in the same manner almost daily as part of standard morning hygiene. My sinuses are so plugged though that the salt water can't even get through. It does feel good to flush some of it out though.  In the afternoon I take a long walk along the almost deserted beach.  After heating up I take a dip in the Indian Ocean. I'm turning summersaults in the water and I can feel the salt water going up my nose again…hmmm this works better than the teapot and it's a lot more fun. My ears pop for the first time
in 2 days and on Tuesday I have my first decent night's sleep in about a week.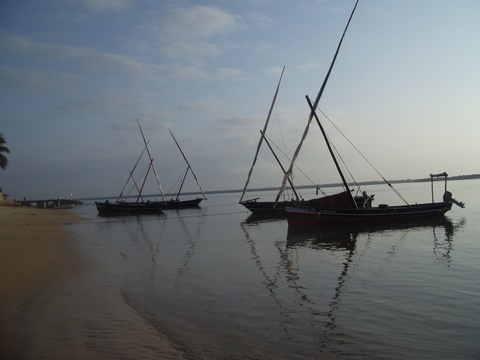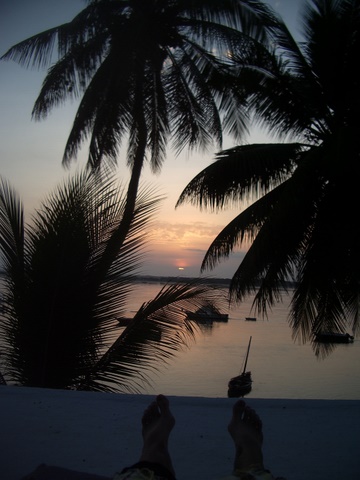 Mar. 10 Though I'm still coughing up bits of phlegm I'm feeling much better this morning. After a delightful breakfast, another stroll on the beach and an exquisite lunch salad of Avocado & calamari, I'm taken on the dhow boat back to the airport. I'm staying tonight at the Macushla House, a B&B in the Nairobi suburb of Karen, named after Karen Blixen from the book "Out of Africa". This is the site where her coffee plantation was located. Tomorrow I take an early morning puddle-jumper to Arusha to meet up with the tour. I'm trying to get my mind wrapped around camping in the tent and getting back on the bike…ugh. How quickly we soften.