2 Sudan
Jan. 20- Inauguration day. After an 18 hour "cruise" we arrive in Wadi Halfa and are processed through customs. There is a totally different feel to this area. Fewer people, less garbage, people aren't clamoring to sell us anything. As we wander through the town we notice far fewer women. A few of us dine at an outdoor café. There are 30 men crowded around a single TV. I assume they're watching the inauguration but it turns out to be some sort of sit-com. I pray that things went without incident for our new president. We ride a few kilometers to a soccer field that is our camp for the night.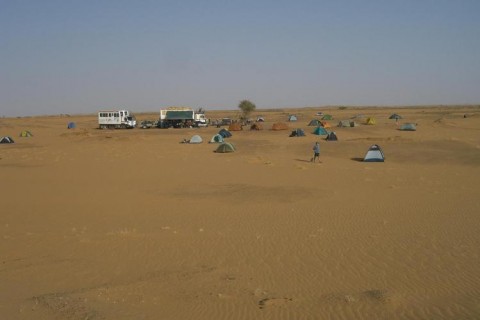 Jan. 21- Wadi Halfa to desert camp, 115 km and I finished the whole ride. The first 93km of this day is like a dream. We're on some of the best roads yet, the air is clean and there's almost no traffic. As the truck passes us we all give the thumbs up. About 2 km later the road comes to an abrupt end. The rest of it is under construction. It's now rocks and sand…deep sand…impossible to ride a bike deep sand. We walk, we push, we ride for a bit, we walk, and we push…over and over and over again. We all limp into camp totally spent and devour our dinner like a pack of wild animals. I pushed it too hard and I know I'm going to pay tomorrow.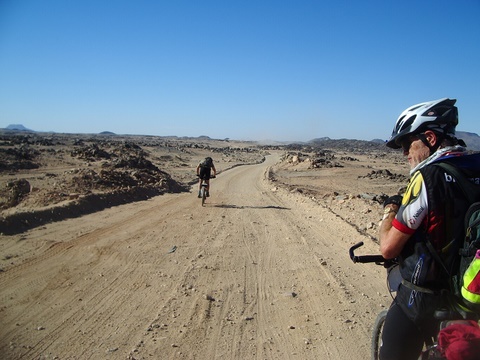 Jan. 22- Under Siege! Desert camp to the Nile camp, 112 km, I only finish 60km today. The villages we pass this morning look like something out of Jesus' time. The water stations are open clay urns with tin cups but I'm afraid to drink from them. I pour a couple of cups over my head to cool off when I notice two women in the fields laughing at me. Before I leave though, they've brought me a couple of tomatoes. The Sudanese are famous for their hospitality. Sudan is the largest country in Africa, the 8th largest in the world. In the west we associate the country with the atrocities we've heard about in Darfur in the west and the civil war in the south. After reading about the "Lost Boys" of Sudan in books like "A Long Way Gone" and "What is the What" it's difficult to believe but northeast Sudan is peaceful, extremely friendly and safe. The people are lovely and it is a much appreciated change from Egypt.
That being said the Nile Valley gnats (or sand flys) are unbearable! These @**%##&!! little bugs are everywhere…in our hair, eyes, ears and even nostrils. The only respite from them is underwater in the beautiful Nile where we bathed as the sun went down. After emerging from the water I looked in a mirror to see about 100 of the damn little things still stuck to my face…YUCK!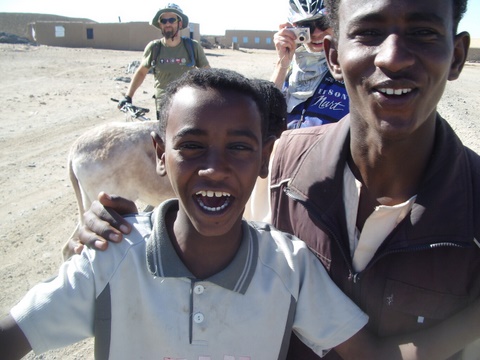 Jan. 23- Testing Our True Grit! Nile camp to desert camp 108 km, a grueling day. Only 2 km of this day is paved and we climb 550 meters (like riding to the top of the Sears Tower). My first "off road" riding was just a couple of days ago so this one slammed me to the ground…again.  There are big rocks, deep sand, huge highway construction trucks covering us with dust sand and dirt, bone shattering teeth rattling washboards all in 100 degree F temperatures.  The path is unclear at times and we get lost more than once. With aching bodies, parched mouths and empty stomachs we pull in to the lunch stop after 60 km and 5 long hours. I opt for the truck after lunch along with 12 other riders. Some are reluctant but their bodies have just given out. I've already come to terms with my personal limitations. I know I'll get stronger as we ride on but I'm not here to punish myself. Remaining healthy is my main goal as well as enjoying the journey. The night sky in the desert is stunning. I can see Jupiter, the North Star and the Milky Way every evening.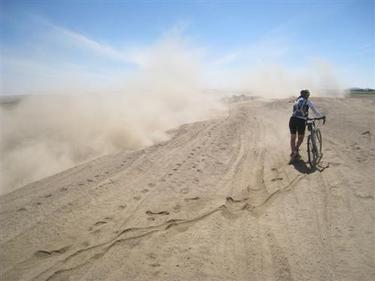 Jan. 24- Desert camp to Dongola, 87 km. Last night I had a sore throat as I pitched my tent. Since it was calm when I went to bed and the ground was too hard I didn't put the stakes in the ground. Of course the wind picked up and howled all night and kept leaning the tent over on top of me and filling it with fine powdery sand. At 6:30 a.m. it actually rolled the tent over with me inside…so much for a restful night. With my sore throat worsening and my lungs packed with powdered silica I opt to take the van all day. I'm really glad I made that decision because it was worse than yesterday. In open land with few roads and unclear paths, nine riders went missing for a period and one of the convoy trucks got stuck. At days end we took another (much smaller) ferry across the Nile and tonight's camp is at a former zoo (without the animals). Tomorrow is a rest day, I'm getting a room and it's laundry, laundry, laundry and rest, rest, rest.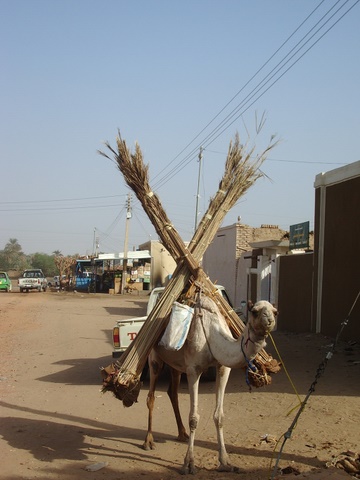 Jan. 25- Rest Day!!! Well I don't know about the rest, rest, rest. After laundry, my friend Siobhan helped me at the internet cafe' but I still can't get my photos to post. I had to find and buy a new sim card for my cell phone because I haven't talked to Jay (my husband) for a week (the first card didn't work so I had to go back and buy another). Buying extra supplies (like toilet paper) for the trip takes time in a 3rd world country with no language skills. I'll be ready to get back in the saddle tomorrow though.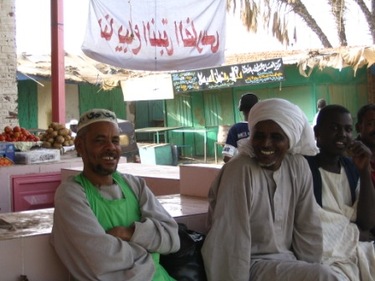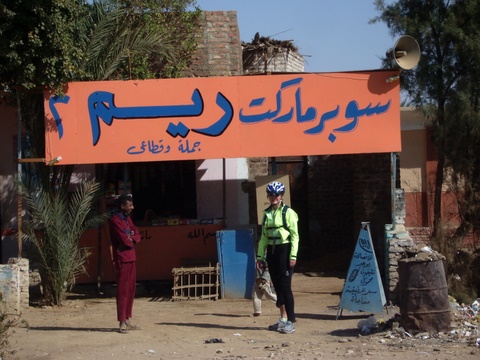 Long Rides, Politics and Exhibitionism
Jan. 26- I rode 142 kilometers (that's about 90 miles) today in 7 hours! The combination of good roads and a bit of a tail wind makes all the difference in the world. I felt very energetic today after our rest day yesterday even though I'm coming down with a bit of a cold I think. My throat is sore and scratchy.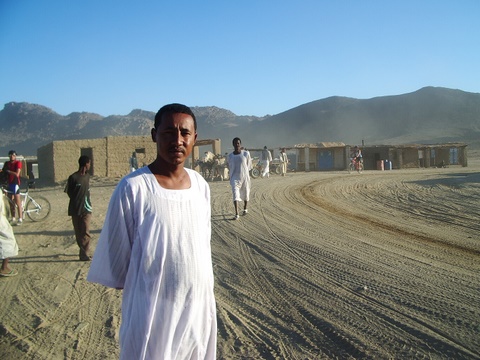 Jan. 27- Exhibitionism?- It's another 142 km today but I'm a little sicker and kind of spent from yesterdays long ride. We slower riders are exposed to more sun, heat and saddle soreness. Though I got on the truck after lunch I am happy with my progress. I'm just not getting caught in the heard/ego-driven mentality. The racers seem o.k. for the most part but some "in between" riders seem to be pushing themselves to the point of not having a good time. At a Coke stop today I notice that all of the men inside are wearing the traditional desert dress of long white garments and turbines. I put on a sarong that I carry on my bike to cover up politely in front of the men. We have some polite conversation but when I leave I have to take off the sarong to get back on my bike. A group of about 10-12 young boys are staring at me dumfounded from the waist down. At home It would probably be analogous to a woman walking into a restaurant wearing nothing but a g-string and some pasties!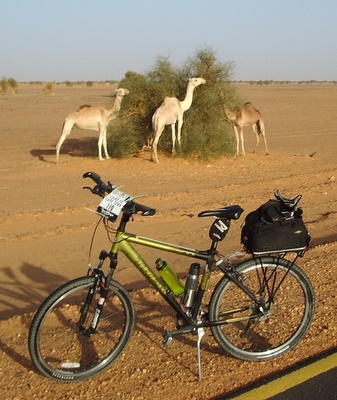 Jan. 28- Political Encounter- It's my husband's birthday. Happy birthday Jay, I really really miss you. The ride is 157 km today, that's almost 100 miles folks, jeez this is nuts! The stark desert beauty is growing on me though. There's a family of camels snacking on a tree, goats, donkeys and curious people. Today at a Coke stop I walked into a political conversation. Oh boy. When the shop owner found out I was American he asked if I thought it was right that we bombed so many people and places in Iraq. He did ask sincerely and politely. I said that I personally didn't think the war was just and that it saddened me about all of the innocents that were killed or injured in the conflict. I said that many Americans felt the same as me and many protested the war. I also said that George Bush was elected by the people though and that we have a system that calls for a peaceful transition of power even when we don't agree with the leaders. I also told him that Americans were told lies about Iraq and many were genuinely afraid. Later I was told that before I came into his shop he was saying that the Jews perpetrated 9-11 because "no Jews were killed in the twin towers." Gee, he's misinformed and biased as so many of us are and therein lies the very sad ongoing problem which promotes the violence.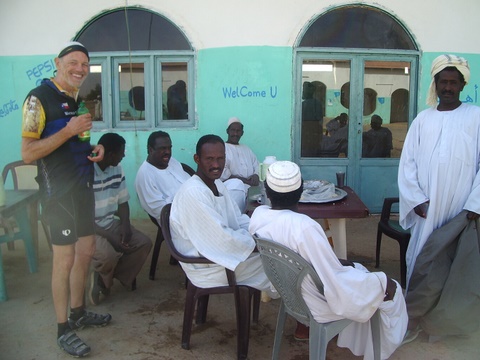 Slow Down and Smell the Dead Donkeys!
Jan. 29- We rode 105 km today right into Khartoum, a huge city of 5-6 million and the capitol of Sudan. After our lunch break outside of the city, we rode the last 40 km or so in a slow tight convoy two riders wide down a busy highway to the city. Picture it: A police escort, complete with flashing lights and blaring sirens, leading a convoy of 50 or so bike riders in tight Spandex and bright colors straight into the heart of the great city; it was quite a spectacle! We could not have done it without help though including a few Sudanese cyclists who directed traffic. The slow pace was actually difficult as you really had to watch the riders in front of you so you wouldn't collide. I know some of the racers found it excruciating. The heat as usual was brutal, the truck traffic as usual terrifying and yes there were some poor donkeys whose final resting place was along our path.
Jan. 30- SUDANESE HOSPITALITY – It's a rest day in the city of Khartoum. Werner, one of the riders from Germany, is also riding to raise money for a good cause. The German YMCA is sponsoring the Sudanese YMCA in Khartoum who in turn is providing schooling and one meal a day for about 300 child refugees from the Darfur region and the war-torn south. Werner distributed mosquito nets (for Malaria prevention) and the children sang for us. The scene is familiar to me as many of the children from the Global Alliance programs have assembled to thank us in song. There is one huge difference though. When I look into the eyes of these children they appear blank. I'm overcome when I try to imagine the things these children have witnessed at such young ages (most are under 10). I am delighted however that 20 or so riders from our group chose to go to see the program.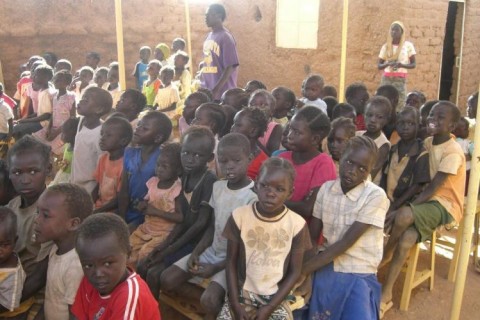 After our visit with the children the director has arranged a wonderful day for us. We take a boat ride to see the confluence of the White Nile and the Blue Nile and are then all invited to his private home where we are treated to a buffet lunch served by his wife and 3 children. We are treated like royalty and it is soooo nice to sit on chairs at a table and eat off of dishes with utensils and napkins. I'm really starting to appreciate the small things that we so take for granted. The hospitality exhibited by the Sudanese has been apparent since the first day we crossed into this lovely country.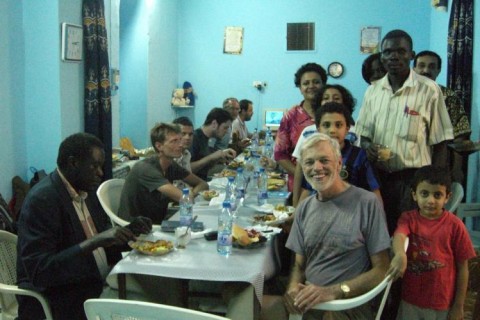 Jan. 31- STAYING ALIVE & A SKIN SHOW- The traffic leaving Khartoum I think is the worst of the trip to date. On the 2 lane highway huge trucks, some carrying tandem trailers, fly by seemingly within inches of our handlebars buffeting us about in their slipstreams. Oncoming trucks pass others forcing us off of the few inches of pavement that we cling to on the edge of the road and into loose gravel where our bikes swerve as we attempt to keep them going straight. White knuckled and tense muscled we push on. After 142 km we are rewarded with one of the nicest camps yet. It is on the banks of the Blue Nile, it has shade trees and water running through it and my dip in the river is again heavenly. The local boys have seen their share of skin for a while as no amount of coaxing can convince them to leave me while I wash in the river. 
Feb. 1- FIRST BLOOD- El Hasahesa to Alfons camp 146 km- The headwinds/crosswinds of the Sahara add an additional challenge to an already long hot day. The wind gusts whip up the sand as it blows across the uncovered, unprotected landscape void of any structures or land marks virtually blinding us at times. I am pedaling furiously with my mate Siobhan but it seems at times like we are standing still. The lunch stop is supposedly close but if it keeps up like this we may reach lunch in about 5 hours, not to mention the rest of the day cycling to camp. I pull off the road to avoid a speeding truck and catch my breath. Still clipped in to my pedals I fall on a steep slope in the gravel drawing my first blood- OUCH…well it was bound to happen.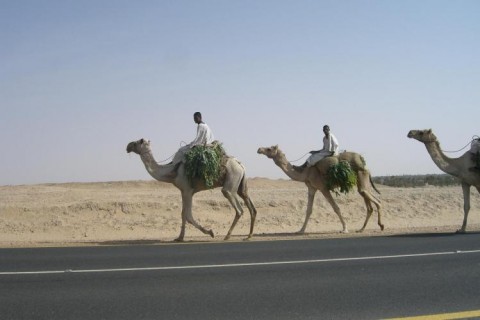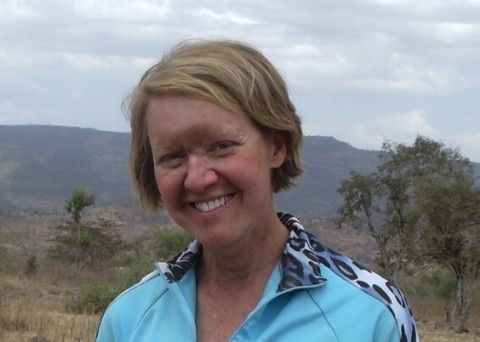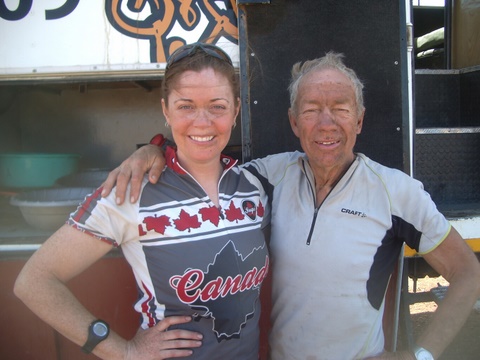 Feb. 2- TOO MUCH LIKE WORK- Alfonse camp to Gedaree-137 kilometers.
 We finally got a break from the traffic and the country road is pleasant as we pass a solitary mountain in the distance. There is a herd of camels galloping along side us with herders looking like they are straight off of the movie set from Lawrence of Arabia but you can tell they're the real deal. Further up the road there is another herd of camels but these are all dead. What happened here? Was it disease? Were they shot? It's a stark reminder of the harshness of the Sahara desert environment. Now the wind picks back up again and I'm starting to get a little cranky. A bus breaks down beside me and I nearly fall under its wheels still clipped into those damn pedals again. Crap my knees are hurting, aggravated by two falls and I feel like I'm kind of breaking down mentally. I finally get into camp and it's just about impossible to pitch my tent in the high wind. Having been blown over in the past I grab about a dozen large boulders and toss them inside to try to stabilize the tent and to keep me company for the night. As I lay there feeling beat up and exhausted I'm reminded of a story that was told about last night's campsite.
It was named in honor of Alfonse, a Swiss cyclist who took the Tour d'Afrique a few years ago. He was a mountaineer and an avid cyclist who by all accounts was a hell of great guy. At lunchtime, about ½ way to the camp, he mentioned to Randy, the expedition leader, that cycling so many full days was beginning to feel a lot like work. He had a sandwich at lunch, laid down to take a nap and never woke up. He died doing what he loved and chose not to give up even when his holiday seemed too much like work. Tonight I know exactly what he was talking about. Tomorrow I'm going to ride the truck into Ethiopia. I chuckle when I remember the words of my stepdaughter Jessica who told me before I left "Ann if you have to take the van every once in a while don't consider it a failure!" of course we all broke out laughing.