5 Tanzania
Mar. 11- After the short hop from Nairobi to Arusha I'm faced with the challenge of finding the tour which isn't too difficult; it's pretty much a one street city. The taxi driver finds them right away camped along side the road and I'm dropped off. The camp is actually quite a nice one but there are only a few people wandering around. This stop in Arusha, Tanzania is the only 3 day rest stop on the Tour d'Afrique. Many of the riders have booked safaris or checked into hotels for R&R. Arusha is the epicenter for climbers going to Mt. Kilimanjaro. The Impala Hotel books most of those travelers and I heard that some of the TDA riders are staying there. I head to the hotel and find some of my riding comrades. I decide that one more night of clean linens, a private bathroom and a hot shower are in my best interest. Hey I'm still a little weak from whatever it was that took hold of me for a few days. The bar at the Impala is a crossroads for travelers. I'll never forget the time, just before one of the Kili. Climbs, when I went to the bar for a drink and a guy asked if I was with the Deborah Picket group. Deborah was a columnist at the Sun Times who was doing the climb with us and had been writing about it in the paper. We all cracked up when I went back to our table and told them. From then on we referred to ourselves as the "Deborah Picket Group". Deborah got a kick out of it too.
Bikes not Bombs-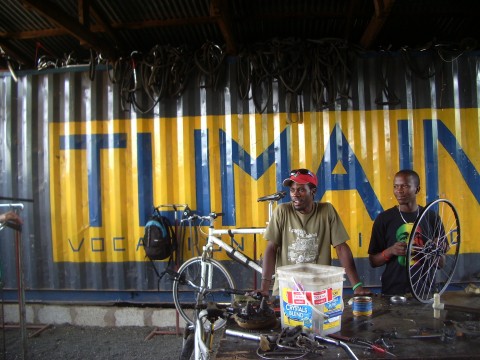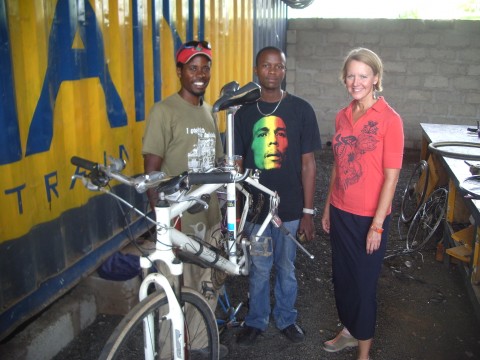 Mar. 12- Today I have an appointment to meet up with Boniface who heads up one of the Global Alliance programs called the Vijana Centre. Vijana means youth in Swahili and recently the African owners changed the name from Tumaine which is the name GAA had given it. No amount of coaxing could convince them that perhaps it should be called something else since Americans would always butcher the name. For the record it's pronounced vee-jhah-nah. The beauty of the Global Alliance model is that the programs are self sustaining and African owned. Once they're up and running, they have autonomy, so Vijana Centre it is. I'm really glad that the tour is stopping in Arusha so I can visit Boniface. The centre takes old bicycles and trains young Africans to repair, rebuild and sell the bikes locally. They also maintain them for some of the local people who purchase them. There are two groups from the States (so far) that take donated bicycles and ship them to Arusha, Working Bikes and Bikes not Bombs. It's a great program which reflects the creativity of Global Alliance and its African partners. I'm with two of the other riders that wanted to see the centre. I'm sure that many more riders would be coming but most are on safari. Boniface can't believe how far we've ridden and how far we're going and quite frankly, neither can I! The shop is tidy and well organized and it brings me great joy to see the results of just a fraction of the donated money that goes to Global Alliance. It's just the spark I need to summon the fortitude that it's going to take to jump back in the saddle tomorrow morning after a week off.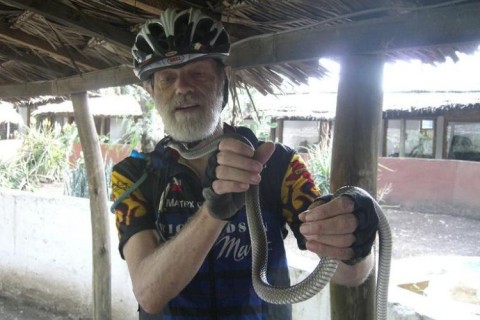 Mar. 13- Arusha to Lake View Camp -105 km- MASSAI STEPPE- This section of the trip, named the Massai Step, actually started on March 8 departing Nairobi. If you recall that was when I was flown in an air ambulance (not actually) to the restorative shores of the Indian Ocean and the Peponi Hotel healing center. So the Massai Step begins for me today. Back in the saddle again after being ill for so long is a bit nerve racking. I wonder how I'm going to readjust. My breathing is still a bit labored as my respiratory infection is not 100% healed. It is an absolutely lovely day, the sun is shining and the countryside is rich, green and lush. We stop at a snake park. I think they did it just to scare us a bit since sometimes we camp in areas which may have snakes. Nice eh? The group is reconvening after some took time off for safaris or to just relax for a bit. Time wise, this is roughly the ½ way point of the tour. All of us are refreshed and relaxed after some respite. There is less tension than in the beginning when we were all strangers. There is familiarity now and yet there is also a heightened sense of anticipation for what the second half of the tour may bring.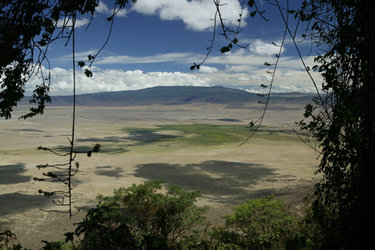 Mar. 14- Lake View Camp to Bereke School -117 km- I've put my big knobby tires back on for the next 6 days. Washboards, dirt and rocky roads keep us elevated above our saddles to avoid hard knocks. I've grown to like these conditions the best, I guess partly because it levels the playing field a bit. We'll see how I feel after a week of riding on them though. The morning starts out foggy and slowly clears to a gorgeous sunny day.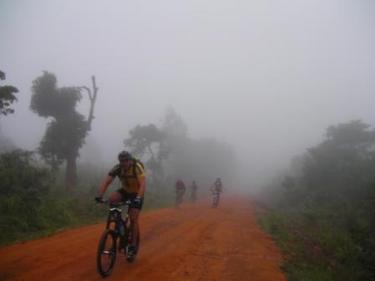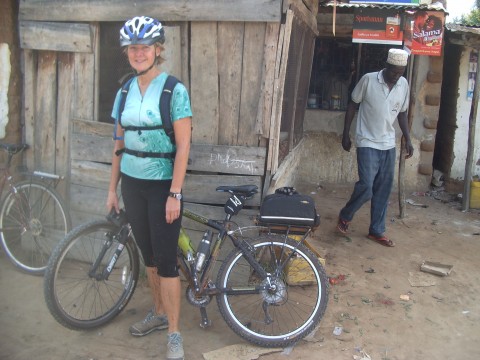 Mar. 15- Berke School to Bush Camp -104 km- EFI- The Tour d'Afrique is a cycling race and expedition, so the marketing material states. The gamut of participants range from the dedicated racer to the leisure cycler. People are there for a variety of reasons and have different expectations of themselves and the group. In the beginning the expedition leader spoke at length about personal limits and to know when to stop pushing oneself and when to say enough is enough. When asked what technique was required for success Randy said "Get on the truck on day one and leave your ego behind." Still there are those that push themselves to remain in the saddle even through illness and injury to maintain the status of EFI. The acronym was reportedly started by a couple of riders a few years ago. EFI stands for "Every F@%#ing Inch" obviously for riders that have ridden their bicycles for the entire tour without riding in the truck. Way back in Sudan Siobhan and I were riding together way at the back of the back when she came up with a new one. She said "We can be DFL, dead f@%#ing last!"…hey, we should be acknowledged too.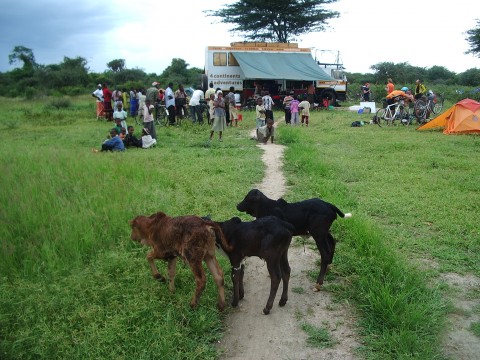 Mar. 16- Bush Camp to Dodona -110 km- SICK TRUCK STOP- We've come to take for granted our two large support trucks affectionately referred to as the lunch truck and the dinner truck. These older but well maintained trucks have served us well. They drove all the way from Cape Town to Cairo to greet us and have faithfully slogged over rough roads, through sand, mud, rocks, potholes and very steep ascents and descents. They carry our life sustaining water, food, supplies and personal belongings and they carry us when we are sick or just sick and tired of cycling. When a truck gets sick though we suddenly realize how vital it is to our survival. One of the trucks is ailing to a point where it can no longer pull the huge water tank trailer. Several staff and cyclers descend on the trailer like a swarm of ants and somehow are able to unhitch the trailer from the big beast and get it re-hitched to the other truck, all on a steep and rutty road. She limps into Dodona for service.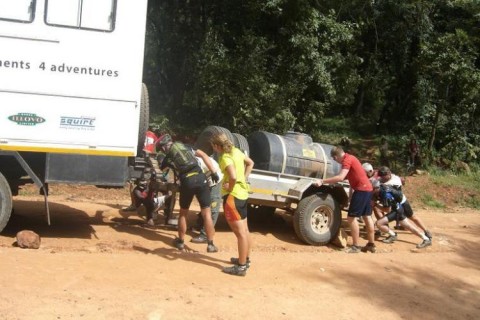 Mar. 17- Dodona to Bush Camp -92 km- DRUMMERS UNDER THE BAOBOB TREE- Today is as good as it gets. The views are spectacular, the countryside is green and lush and the people are beautiful and peaceful. Our lunch stop is under an enormous Baobob tree which is so pleasant that I'd like to stay here all day. I push on though and in the afternoon several of us stop in a village for tea but are asked to move with our bikes to an adjacent building. There is a community meeting scheduled with a leader of apparent stature and importance regarding the issue of a well and water for the village. Several brightly dressed women and drummers begin singing and performing right in front of us. This scene is right out of National Geographic and we have the privilege to witness it because we are cycling across Africa.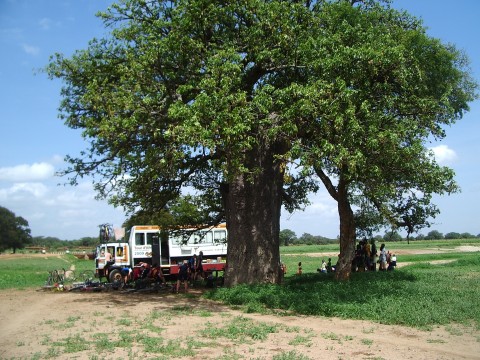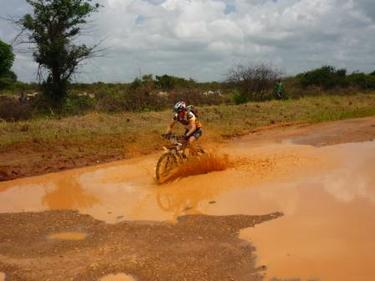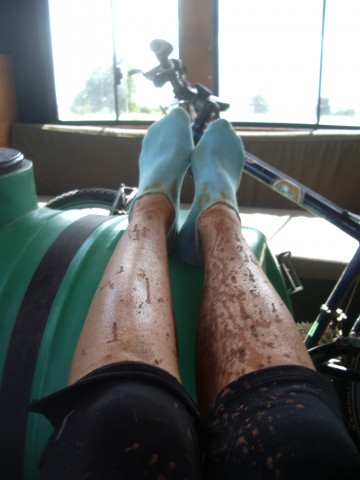 Mar.18- Bush Camp to Bush Camp -97 km- MURPHY'S LAW- I've ridden several full days in a row now, not that I wanted to take the truck, but it seems that I have a better chance to get into camp earlier since the trucks have been breaking down lately. Anyway it's a beautiful sunny day and the biking and the landscape are breathtaking. I see 2 staff and a racer cycling together, oh so slowly and I know something is up. The racer is Paul Porter, an agronomy professor who is teaching a class while he's cycling across Africa. He's also winning a number of the race segments in the over 50 category. Paul is lovely gentleman who also happens to be EFI. Paul has a bandage around his elbow and the staff nurse is attending to him. I assume he's in good hands and I ride on. After a lengthy Coke stop I notice the dinner truck pulled over and some frantic people are attending to Paul's elevated bleeding arm. The phones are not working to get the word to the support 4×4 to come and pick up Paul and take him to the hospital in Iringa about an hour away. One of the racers is sent biking like a bat out of hell to reach the 4×4 with the news. Thank God the phone starts working and Paul is rushed to the hospital.
At the same time the dinner truck is having mechanical difficulties and the lunch truck has to backtrack quite a way to pick up the food being served for dinner at our Bush Camp. Since most of our lockers with all of our gear are in the larger dinner truck we're standing around in soggy cycling clothes. Miraculously the truck comes lumbering up the one lane, rough mountain road and now we're putting our tents up in the dark.
As we're eating our very late dinner we get a report on Paul. He is in the hospital and stabilized but is undergoing surgery with a broken arm and a severed artery! Sadly the tour is over for Paul and he will be returning to Minnesota. He is being flown to Nairobi because his insurance company has never heard of the Iringa Hospital. Paul's accident wasn't even on a particularly bad section; it was just kind of a fluke. It could happen to anyone at any time. Another woman on the trip has been off for 3 weeks because she fell and damaged her ankle. It's quite sobering.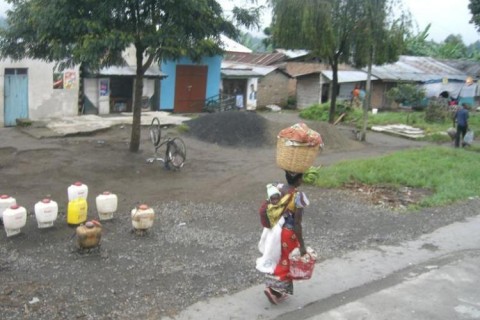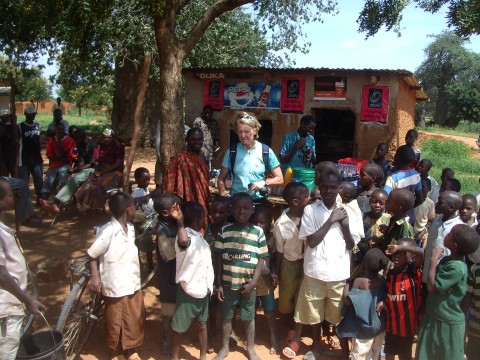 Mar. 19- Bush Camp to Iringa -75 km- THIS IS THE DAY THAT THE LORD HAS MADE- The steep climb out of Bush Camp through the mountain forest is so drop-dead-gorgeous that I hardly notice the physical challenge. I am overcome with gratitude and appreciation in this stretch between Arusha and Iringa. The daily annoyances and tiring routine are well overshadowed by the peaceful natural surroundings, little vehicle traffic, spectacular scenery and local people smiling widely as we pass along side their villages. Often we'll see families sitting beside the road watching us like a parade. I am compelled to use the little Swahili that I know. Words like habari (how are you), mizzuri (great), asante (thank you), asante sana (thank you very much) don't exactly roll off my tongue but I try to use them in passing. Sometimes they respond and sometimes they just stare at the Mzungu (white person) in stunned amazement. Maybe I'm not saying it right…? Tanzania has always had a special place in my heart and now it does even more so.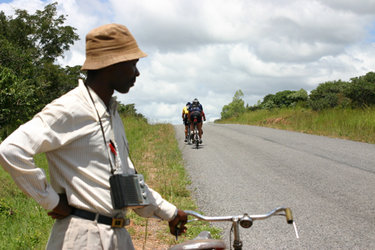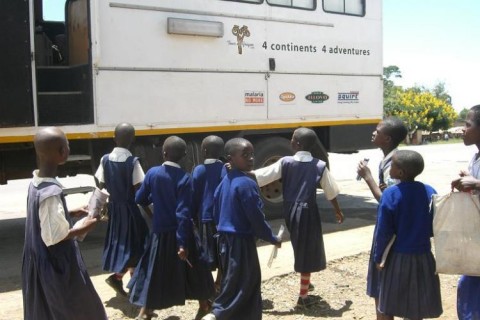 Mar. 20- Iringa -rest day- THAT'S NOT THEIR CULTURE- Iringa was a German Colonial settlement a century ago. Today the main industry is safari tours in Ruaha National Park and Selous. It's a bustling town with quite an interesting culture. Since we've been on the road non-stop for 7 days many of the group rent rooms in town. Most of the rooms that have been available on the trip are similar in quality and price. Though not the Four Seasons they usually have the basic amenities but something is often missing: power, water, cleanliness or peace and quiet for example. I'm awakened by the usual 5:00 a.m. call to prayer over loud speakers in town. This you get used to and I can usually fall back asleep for another 2 or 3 hours which is essential on rest days. This morning however immediately following prayers, the bus depot, which is right across the street, has a radio blaring loudly right outside my window. Even though I've closed the shutters and windows I can still hear the boom-box and the unventilated room is so stuffy and muggy that I can't get back to sleep. I mention this to the receptionist hoping the management might speak with the bus terminal owner to try and maintain peace and quiet in the hotel. Upon mentioning this to a couple of riders at breakfast I was harshly scolded and told that sensitivity to noise was not a part of the Tanzanian culture and that I had no right to expect differently. Well, well, well…we have a difference of opinion. Would it be more "culturally sensitive" of me as a westerner, in a hotel filled with westerners, to pay my money and give the management zero input as to what their clients may want? I think not. I mean this is a hotel; people purchase rooms to sleep.
Stunningly beautiful Tanzania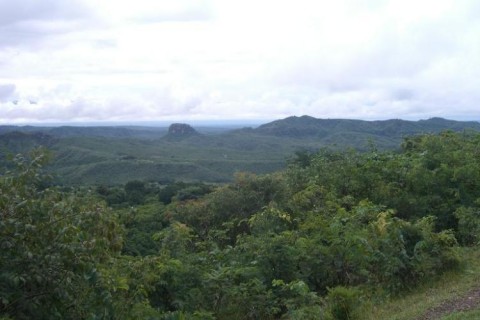 Mar. 21- Iringa to Forest Camp -100km- HAIL MARY- We're back on the pavement again and most people are thrilled but we're back into the traffic as well. It's probably sounding like a stuck record by now but its huge trucks and busses blasting past with little regard for our safety. After lunch dark clouds roll in and it starts to rain.  Though some of the riders seek shelter I decide to push on. I chose not to wear my raincoat and I'm getting pretty thoroughly soaked. The raindrops are getting larger and colder when I realize I'm in a hail storm. I know I'm close to camp but by now the trucks are splashing waterfalls over me and I'm getting more and more chilled. Finally I spot the finish flag and I ride up a muddy tree lined road to the campsite. Some of the riders are huddled, shivering under the kitchen cooking tarp waiting for the truck to arrive with dry clothes. We are served a delicious, hot, hearty mushroom soup prepared with fresh mushrooms from the Iringa market. I have to admit that the concern about hypothermia is a new one on this expedition.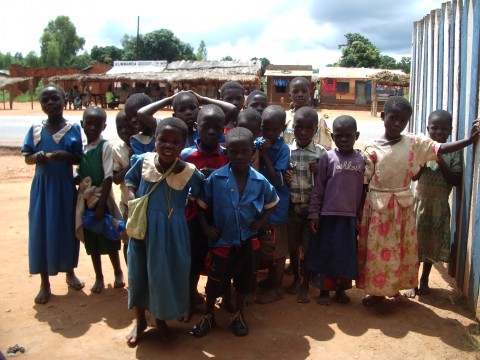 Mar. 22- Forest Camp to Bush Camp-130 km- HIT & RUN- I'm in the minority but I miss the rough roads. I need the maximum pressure in my tires so they'll roll a little easier on these paved roads but the TDA pump/tire gauge is broken and mine broke a long time ago in the first few days of the tour.  Getting a mountain bike up a long incline is like pushing a tractor and again I slip into the back of the pack. Both the lunch truck and the dinner truck pass us in tandem which is quite unusual. Then I learn from the next cyclist to pass me that Werner was hit by a passing truck shortly after departing camp and had to be rushed back to the hospital in Iringa. Werner is a great man and a selfless rider. Back in Egypt when I was struggling so much he slowed down one day in a headwind and allowed me to draft him for about 44 kilometers. He's the one who collaborated with the YMCA in Khartoum to help provide meals and education for child refugees from the Darfur region.  Later we learn that Werner has also broken his arm and will have to be leaving the tour. I'm deeply saddened by Werner's accident and now I have an increased level of anxiety and tension worrying about his condition and my own safety.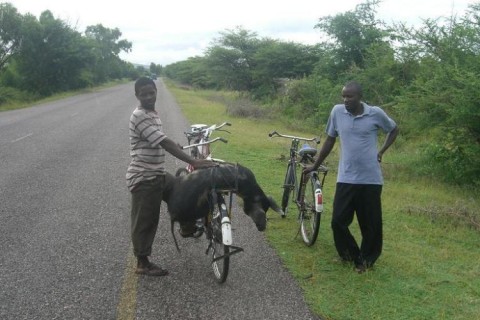 Mar. 23- Bush Camp to Mbeya -95 km- 6 ½ WEEKS- I'm wondering if I can take another 6 ½ weeks of the whole routine until we reach the finish line on May 9th in Cape Town. It is becoming more and more monotonous. What on earth am I doing here? I've traveled with others in Africa often on tours of my own design to raise funds for the NGO Global Alliance for Africa. I try to book our groups in small intimate lodges set in natural surroundings so the people can feel connected to the areas they're visiting without too much discomfort or inconvenience. This four month budget trip however is a far cry from that. I eat standing up; I share toilets with dozens of people and frankly it's becoming very tiring. As I mentioned before the tour caters more to the passionate cyclist whose emphasis is on speed and how long they can stay in the saddle. Those who cycle the fastest and the longest are rewarded by the good ole' boys club with a plaque, a round of applause and a slap on the back. Those of us who don't fit into that category are tolerated at best. Certainly there must be a way to acknowledge the progress of all of the paying customers. Maybe TDA should reexamine their definition of an acceptable rider profile. Maybe it shouldn't include people mike me. Maybe their riders and revenues would decrease. Maybe there wouldn't be disappointed customers writing blogs such as this. Maybe in 6 ½ weeks I won't give a damn!