6 Malawi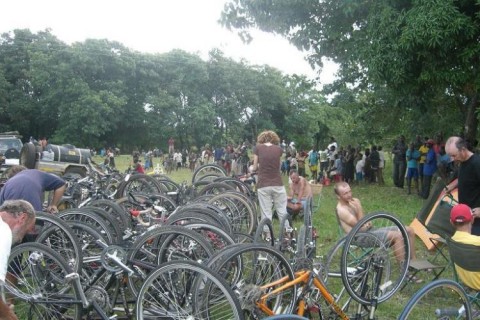 Mar. 24- day 74-Mbeya to Bush Camp-120 km- SWAMPY CREATURES IN THE NIGHT- As border crossings go this one from Tanzania into Malawi is seamless and easy. No visa is required and no fee is collected which is a first on this African expedition. The last 15 days of lush hills and mountains changes almost immediately to swampy plains with rice paddies. The culture changes just as instantly from the wide shy smiles of Tanzanians to the somewhat aggressive begging techniques of Malawians. Our small campsite is almost immediately surrounded by hundreds of children and as I attempt to read a group of them huddle around me and try to read over my shoulder; so much for trying to relax before dinner.  A new tone has been set for the Malawi experience; be on the lookout for thieves. The frogs serenade us as we lay perspiring in our tents in this swampy outpost and several of us have possessions, which have been placed in our tent vestibules, removed by 2 legged creatures in the night.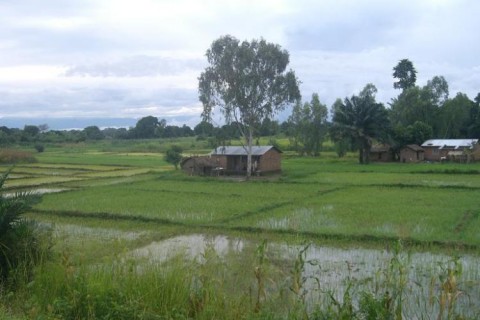 Mar. 25- day 75-Bush Camp to Chitimba-123 km- LOCATION LOCATION LOCATION- You simply can't go wrong with waterfront property as we've seen in the real estate business back home. Lake Malawi is the 7th largest fresh water body in the world and our camp site tonight and our rest day tomorrow is located on one of its sandy beaches. I can't help but be gratefully reminded of my own slice of beachfront back home in the Indiana Dunes on the sandy shores of the 3rd largest fresh water body, Lake Michigan. This looks like a nice place to hang for two nights but I've missed the opportunity to rent one of the huts on the beach since the faster riders got first dibs. I've had more tent life in the last 75 days than I've had collectively in my entire life and it's tiresome.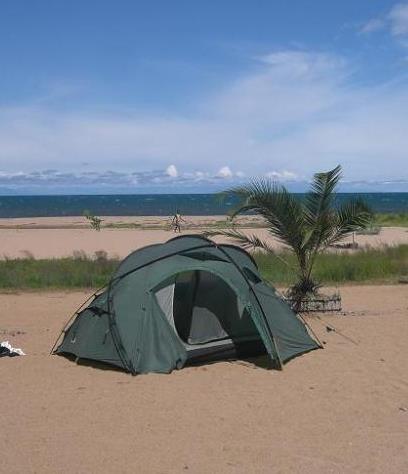 Mar. 26- day 76-Chitimba rest day- TOYOTA, LIVINGSTONIA AND ANTS- Meals are not prepared by the TDA staff on rest days so a group of cyclists affectionately referred to as the "French Connection" take the initiative to prepare a scrumptious breakfast of French toast, sausage, fresh pear compote fruit salad and caramelized nuts. Oh my God now we're talking! After breakfast a group of 8 cultural history seekers hire a driver with an old Toyota truck and a "guide" to escort us over steep, rough, rocky roads to the town of Livingstonia set on a mountain top overlooking Lake Malawi. The town is named after Dr. David Livingstone, a missionary and explorer who, among other things, was the first European to see Victoria Falls to which he gave the English name after his Monarch. His meeting with H.M. Stanley, after years of searching, gave rise to the famous quotation "Dr. Livingstone, I presume?" The bouncing and often painful ride in the bed of the truck begins with much laughter from our group. Each leg of the Tour d'Afrique has had 2 writers sponsored by Tony Wheeler, the founder of the Lonely Planet travel guide books. On this section of the tour as well as on this wild ride up the mountain we have the pleasure of Tony's company himself. I really enjoyed listening to his stories about the upstart company back in 1972 and of some of his and his wife's adventures along the way. We stop for lunch at The Mushroom Farm, a quirky getaway lodge with a vegetarian restaurant on the mountain with drop-dead gorgeous views of the lake and surrounding mountains. Upon return to the camp we pay our "guide" the agreed fee to avoid a scene though zero guiding services were actually provided. When we registered a complaint with him he seemed stunned and confused. Somehow the concept of a fee provided for actual services was eluding him. Back at my tent I'm confronted with an enormous ant infestation which has found its way to the little snack foods that I keep there. The entire remainder of my rest day is spent pulling everything from my tent and methodically stripping the little buggers from all of my stuff. Somehow they've actually made their way into sealed bags…YUCK!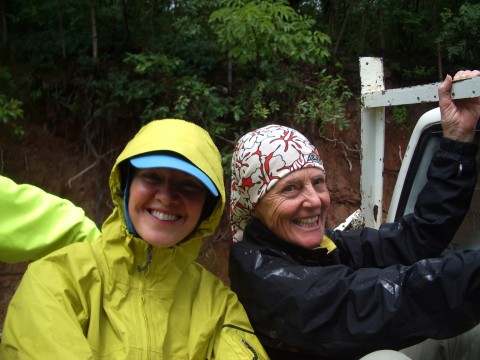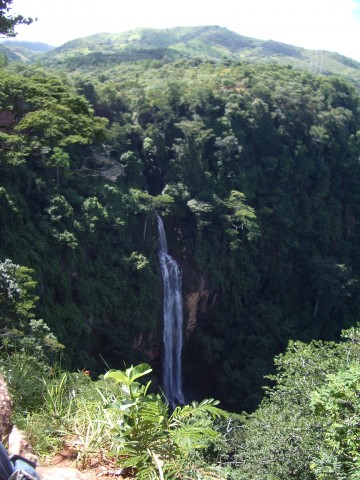 Mar. 27- day 77-Chitimba to Mzuzu-137 km- I'VE HAD IT- Today I chose to ride the truck in the morning, help prepare the lunch and then ride the 67 km from the lunch stop to Mzuzu. The town is much more prosperous than I had anticipated and I'm happy to find a room that is available after the tedious battle with ants in my tent the night before. I'm feeling more and more like I don't want to be here so anything I can do to make it through until Jay arrives on April 23rd I need to do it. I miss him terribly. At the daily pre-dinner talk, Shanny, the expedition leader since Randy left in Tanzania, congratulates the group on a hard day reporting that 90% cycled the entire day. This is not unusual, a pat on the back for those "going the distance" and excluding those who don't. Well today it hit a nerve in me and I lost it. The measly 67 kilometers in a headwind on a mountain bike that I accomplished doesn't even deserve an honorable mention on the TDA tour. I kvetched using expletives to those sitting on the curb eating dinner around me. I'm pissed and I've had it. I retreat to my room and call Jay and tell him I want to come home. He's getting excited to meet me in Namibia but understands and will respect whatever decision I make. The news of my discontent reaches Shanny and he visits me in my room to talk. Fortunately my old pal Earnest has researched a little get-away lodge on Lake Malawi with rooms for $17 a night. He and John and I decide that another break from the group is in order so I'll have a few days to think it over, away from the daily grind.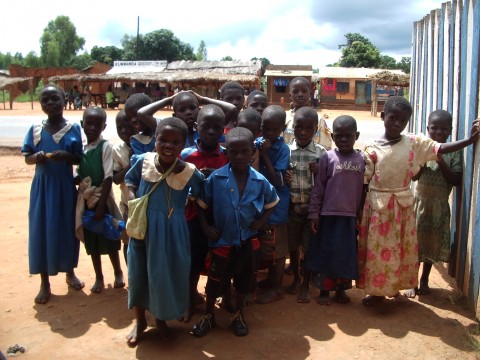 Mar. 28- day 78-Break Time-Nkhata Bay-Mayoka Village Lodge- DARK, ROCKY UNEVEN PATH- The three of us taking a 3-day break from the group breakfast at the hotel, watch the cyclists depart and catch a taxi for the approximately 60 minute ride to Nkhata Bay on Lake Malawi. This is the same route the tour would have taken but a bridge has washed out in heavy rains and forced the tour to reroute inland. The Mayoka lodge built into the hillside on steep paths along the shore is adorable. At $17 per night I was leery but the Lonely Planet's "favorite pick" turned out to be a real find. Thank God I've got a few days to relax and get away from the "all cycling all the time" mentality. It turns out that young John Stowe from the tour has had the same idea and I see him in Mayoka unexpectedly. We catch up over surprisingly good thin crust pizza in town. The next thing we know it's pitch dark and we must navigate back to our lodge without headlamps. Here I am on a rocky, uneven path in the forests of Malawi following John closely in total darkness. We finally make it back and Earnest and the elder John waiting for me at the restaurant like concerned parents as I hadn't told them where I was going or when I'd be back. The four of us reunite over wine and I have a restful night on a real bed instead of the ground in my cute little cabin on the lake. I trust that I'll be O.K. no matter my decision about the dark, rocky uneven path of the TDA tour.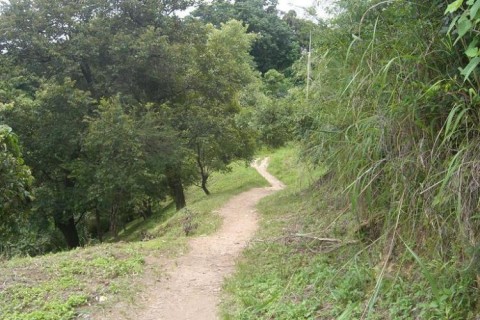 Mar. 29- day 79- READ WRITE RELAX- What a heavenly day, I make coffee in my room and read on my terrace overlooking the lake. I breakfast with the boys and return to my terrace to write. After lunch I return to my cabin for a nap. I take tea on my terrace and talk to Jay. I've decided it's best to stick it out and complete the tour. It's only a few weeks and Jay will be with me in Namibia offering support, having fun and reuniting after 3 ½ months of separation. We've decided that never again will we voluntarily be apart from one another for that long. I've come this far, I figure one way or another I'm going to make it to the finish line.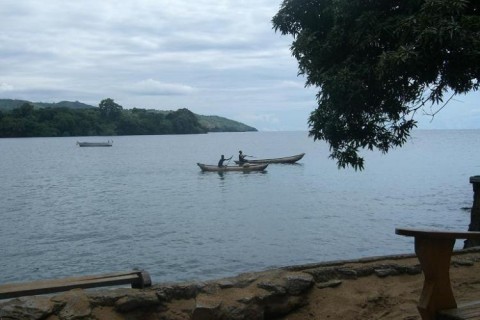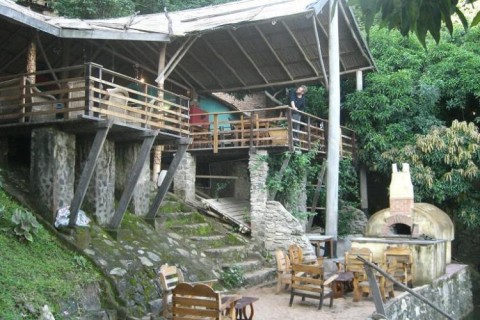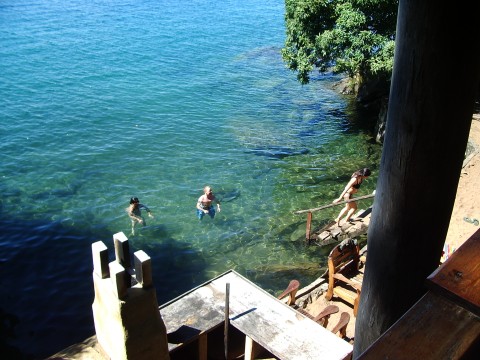 Mar. 30- day 80- WHAT'S NEXT- Today I met an interesting woman named Miriam who is also staying at the lodge. She is a volunteer teacher at a school near Nkhata Bay for 6 months. She is a New Yorker who has lived in Rome for the past 25 years. She left her long time career as a journalist because she was tired of it and has discovered that she loves teaching. I admire her for taking a risk and by chance finding a new calling. One of my reasons for joining this tour is that by chance I will come to know what is next for me. We shall see.
Mar. 31- day 81- Nkhata Bay to Mzuzu- Today we pack up and take the hour long taxi ride back to Mzuzu. Unfortunately we have to spend a night in Mzuzu rather than in our little found paradise at the Mayoka lodge on Lake Malawi. The bus that we have to take for the 7 hour ride to Lilongwe to catch back up with the tour leaves very early in the morning tomorrow and we can't miss it.
Apr. 1- day 82- Lilongwe TDA rest day- THE PASSION WITHIN- We catch a 6:30 a.m. bus to Lilongwe to rejoin the tour. We were advised by our innkeeper to purchase our ticket the day of departure so that we could actually see the bus that we are going to ride for 7 hours rather than buy it a day in advance from the aggressive "touts" who all claim that their bus is the latest and greatest, the most comfortable and of course the fastest and the classiest! We choose a nice looking bus that is supposed to be the express, but after some time there is a smell that is somewhat reminiscent of the lovely latrines that we have endured throughout our journey. I've brought along a special mixture of essential oils and distilled water for just such occasions but in spite of spraying it a number of times the assault on my senses remains. We're quite hungry when we arrive at the chaotic Lilongwe bus terminal but must first push our way through a throng of cab drivers and hustlers trying to sell us anything and everything. We find our way down a street to an Indian restaurant which is actually closing its doors for the day but the proprietor agrees to serve us upon the condition that we listen, at length, to the story of her Christian calling to Malawi to preach at a Pentecostal church. The experience is a bit surreal as we listen to this Indian woman relay her story in a huge, empty restaurant in Malawi. We marvel at the passionate commitment to her faith however and we wonder what it is that may stir the same level of passion within ourselves. We all agree that it is not cycling! When we reach the TDA campsite it is raining hard and the thought of pitching a tent is dreadful. The only other option is a small dorm room with 7 people, 4 of whom we have never met. The room is next to a bar with a loud group watching football (soccer) and I find myself wondering again, how much more of this I can take.