8 Botswana
Apr. 13 -Day 94- A THREE HOUR CRUISE- 82 km. We load our bicycles on the ferry to cross the Zambezi River for the boarder crossing from Zambia to Botswana. The four African countries of Zimbabwe, Zambia, Namibia and Botswana meet at this point so during this little crossing we can view the shores of all four.  A sunset river cruise on the Chobe River has been arranged for the evening. At first it seems a bit touristy but within three hours we view an outstanding sunset, kudu, zebra, elephant, giraffe, hippos, crocodile and various birds. Not a bad way to spend three hours and back at camp we consume massive quantities of a TDA favorite: Spaghetti Bolognese.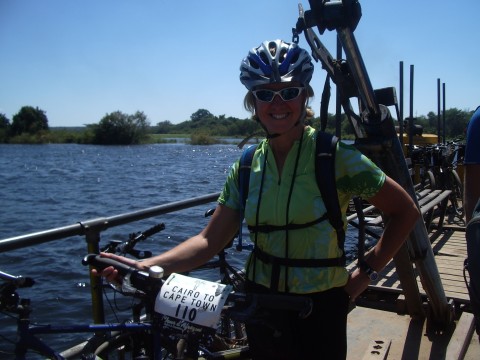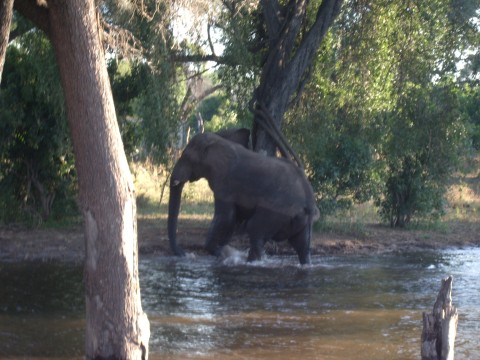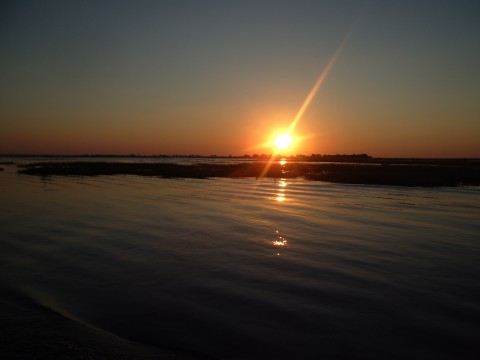 Apr. 14. -Day 95- ELEPHANT HIGHWAY- 160 km. This TDA section from Victoria Falls/ Livingstone Zambia to Windhoek Namibia is called the Elephant Highway. We cycle along the park boarders so elephant sittings are common. A staff cyclist encountered two adults and a baby on the road in front of him. An adult charged but as he cycled "quickly" in the opposite direction the charge ceased. Personally, in spite of a possible elephant sitting, I find cycling on this flat, straight highway akin to monotonous torture. The very aspects about the terrain which could be potentially appealing like the flat, straight pavement, predictable flora, void of any humans also make it unappealing. It is peaceful and we're not hassled by beggars in this sparsely populated country (1.7 million) the size of Texas. I find that my mind is focusing on every ache and pain and at this point in the tour I have many. God help me to get through this section.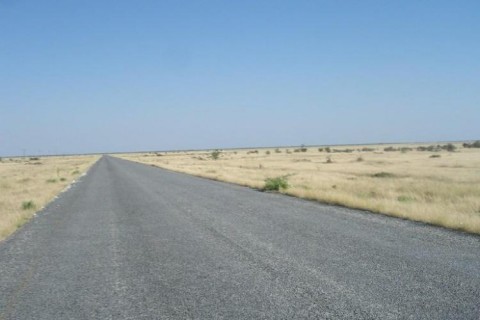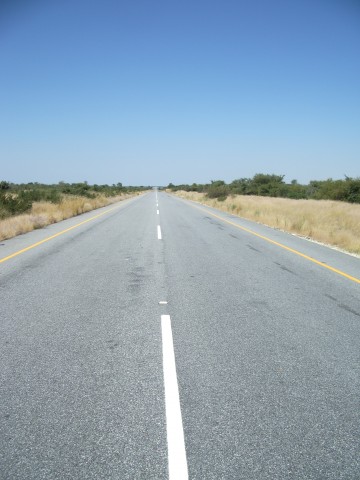 Apr. 15. -Day 96- MIND GAMES- 150 km. My mind wanders aimlessly as I attempt to remain enthused to keep on peddling on these flats. Although I'm finding that cycling this section is uninteresting I know that we are near some outstanding wildlife safari destinations and I ponder another side trip to the Okanvango Delta. I can justify this because "I'm so close and may never be back this way again." I know people who have taken safaris in Botswana and have utterly raved about the experience. I find a kindred spirit in Anna and we begin to contemplate our getaway from the monotony in a couple of days.
Apr. 16—Day 97- FLAT ON THE FLATS-175 km. Turns out that I neglected to purchase the appropriate pump for the valves on the skinnier tires I've been using since a sectional rider sold them to me in Lilongwe. I also exploded my only spare with a faulty pump so here I am cycling on the flats of Botswana without a spare or a pump. I notice that I'm moving more and more sluggishly and as I glance down at my rear tire I can see that it is getting flat. My riding partner doesn't have the correct pump for these valves either so we wait for Alex, the morning sweep. Her pump is malfunctioning and I loose more air than I gain. I'm unable to cycle to lunch only 10 km away so we flag down a South African family of five on holiday who graciously give me and my bicycle a lift to the lunch truck. I'm lucky since there are few cars passing us this morning.
Apr. 17 – day 98- OKANVANGO DELTA- We want to book a two night safari in the Okanvango Delta and we have one afternoon to research options and book a trip in Maun, the gateway to safaris in the area. We notice a storefront for Kwando Safaries and stop in for some information. The Kwara Camp with eight tents is fully booked but Little Kwara with five higher end platform tents is available. We balk at the price and are able to negotiate the price and book the room at the lower price of the first option. The Kwara Concession is a 573,000 acre private wilderness area. It shares a 30 km water boundary with the Moremi  Game Reserve. An advantage of visiting a concession is that we will be allowed to drive off the roads and also drive at night. Anna and I will depart in the morning on a small aircraft to the private concession airstrip for a spur of the moment safari in the world renowned Delta.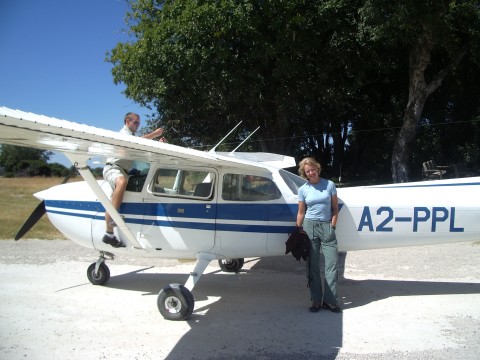 Apr. 18 – day 99- RESIDENT ELEPHANT- Our flight on a four person single engine aircraft is entertaining as we fly low over the flooded delta. Our pilot is South African who works in Botswana to acquire flight hours. The airstrip at the Kwara Concession is a patch of sandy gravel in the wilderness and I can't help but compare and contrast this secluded place to O'Hare Airport in Chicago. Two welcoming staff persons greet us in a rugged three tier open air 4×4. One of them introduces himself as "Bait" and I realize he uses this name because he sits on a perch to the left hand side above the bumper to track wildlife for the driver and his clients. Within ten minutes on sandy rutted trails we arrive Little Kwara, we are warmly greeted by all of the staff present as we sit down to a delicious late breakfast. Even before I see the room I know that we have made the right decision to explore the Delta with this company at this camp. This staff has been trained, very well trained in customer service. Our platform tent is luxurious with beautiful bed linens, double lavs, claw foot bath tub and a separate partially outdoor shower. As we sip our wine and enjoy a late afternoon light meal prior to our early evening game drive the elephant we've heard about from the staff pays us a visit a mere 20 feet from our lounge chairs. We remain calm and honor his terrain in which it is we who are guests, and he in turn calmly munches on his choice of greenery as we marvel at his girth.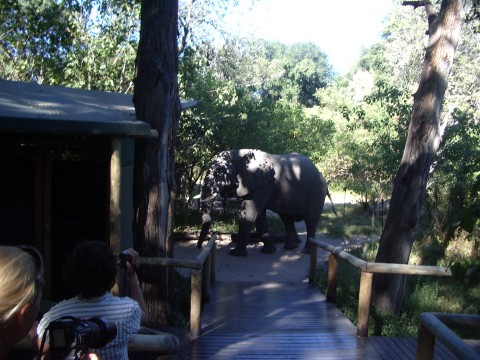 Apr. 19 – day 100- MATING HIPPOS AND SEX ON THE BEACH- Anna and I have been giddy with delight since we have arrived at this lovely camp. The level of high standards and service is such a treat after three months of the TDA Tour. Keep in mind that we are used to occasional postings at the TDA campsites like "no bottle showers- get your asses in the Nile—that way." We have access to an open bar and are asked what kind of cocktail or beverage we would like for our evening excursion. We opt for a vodka and orange juice concoction I'm told is known as sex on the beach. Tonight six clients and our guide Hobbs and tracker Vasco will cruise on a small double-decker boat to watch the sunset and whatever wildlife comes our way. We meander down narrow channels with tall grasses and flowering water plants. As we approach an open water area we realize that it is loaded with hippos. A mother and her baby stare with a suspicious "I dare you" look and we keep our safe distance from the animal responsible for causing the most human deaths in Africa. Hobbs turns off the motor, Vasco prepares our cocktails and serves starters as we watch two hippos mating and the sunset simultaneously in this exquisite environment. How fortunate are we!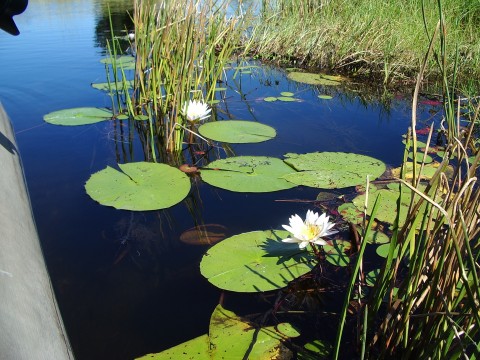 Apr. 20 – day 101- BLACK MAMBA- We are scheduled to depart this afternoon and I would happily extend my stay another day but we decide to remain with our original plan. It's always a challenge for safari guides to manage their client's expectations. I am content to be here regardless of which animals I see or don't see, but Hobbs is determined to find us the cats which have remained elusive thus far. After our pre-dawn campfire breakfast we venture out in the 4×4 to see what we can see. This morning turns out to be as good as it gets. We've already seen a lot of elephants but we came upon a breeding herd; several adult females and their babies. They are protective and one trumpets at us as our hearts skip several beats. Our guide knows what he is doing, remains still and calm and the mother elephant calms as well. We are looking for a leopard with her kill spotted last night but locate a pack of hyenas who have stolen her dinner. She may be near by and sure enough we spot her. Hobbs skillfully maneuvers the 4×4  over obstacles that I didn't know could be overtaken as we track her through the bush. We lose her but to our amazement locate two cheetah eating an impala. We watch from 15 feet as they satisfy themselves. If this wasn't enough for a morning we take a short mekoro cruise (a dugout canoe now made of fiberglass) through the narrow channels. It is what we happened upon on our way to the mekoro that is the most amazing and frightening. I am sitting next to the driver on the lowest level of the completely open three tiered 4×4. There it is on the ground next to me; a black mamba, the most dangerous snake in Africa whose venom is a neuro-toxin that can stop your breathing in as little as five minutes. A client on the second tier excitedly rose to see it, temporarily forgetting the strict instructions never to stand in the truck. The snake responded instantly (possibly to a perceived threat) by erecting itself straight up about four feet approximately three or four feet from my head.  According to our guide we were extremely fortunate not to have met our demise. I'm here to tell you about it!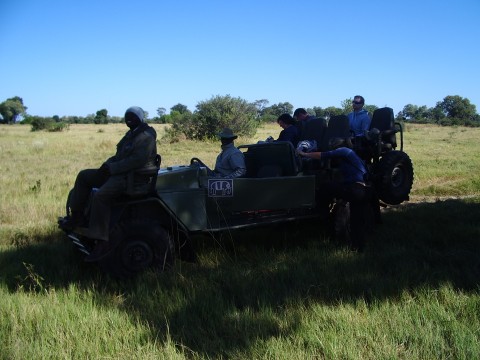 Apr. 21 –day 102- Ghanzi to Buientempos -207km- TWELVE HOURS- Anna and I walk to the bus station early to catch the first of two buses to the Botswana/ Namibia boarder at Buientempos to rejoin the tour. As we approach the boarder we pass several of our fellow cyclists on the road. At this point in the tour we can identify them from behind. Each has a distinct style and look about them. Everyone on the bus is looking at them as well as we knowingly name them as the bus speeds past them. Today is the longest distance riding day on the entire tour. At 207 km, I can't say that I'm sad not to be cycling. It's a goal for my Team Sweep mates Ernest and John. As we pass them I bless them for their efforts. We reach the boarder and immigration offices after hitching a ride for part of the distance and walk the 1 km to camp in the hot sun. I'm wondering about Team Sweep and I am delighted when first Ernest arrives safely and then John after sunset with his headlamp in the dark. He spent twelve hours in the saddle today with two flat tires and has accomplished his goal! Congratulations to both of you!