9 Namibia
Apr. 22 –day 103- Buitenpos to Witvlei -162 km- CAMPING FATIGUE- I'll be the first to admit that I am tired of camping. I'm tired of setting up my tent and I'm tired of taking it down, rolling it up in the cool moist predawn air by the light of my headlamp. Most of all I'm tired of sleeping on the ground- literally, since my Thermarest sleeping pad has had puncture holes now for three months. It is difficult to locate a plant or a tree in Africa without thorns since so many creatures wish to eat them. So when given the opportunity to pay for a bed, even an $8 bed in a dorm room I'll do it. When the rain poured down in the middle of the night I couldn't help but think this was the wisest $8 I've ever spent. With holes in the floor of my tent from the rocks I threw into it in The Sudan and Northern Kenya to stabilize it during the torrential wind and rain storms it's response to large quantities of water at this point is questionable. Simple pleasures are sometimes the best, in this case a warm dry bed above ground.
Apr. 23 (by Ann) –day 104- Witvlei to Windhoek -159 km- CRYING LIKE BABIES- Finally, the day has arrived. No, not the day we complete the tour which is also on the daily count down but the day Jay arrives in Windhoek to join the tour. I've learned a lot on this journey most which will not become apparent until I'm safely home sleeping in my comfortable bed overlooking Lake Michigan. One thing is certain however. I do not want to be apart from Jay for 31/2 months again. I missed him so much and I experienced so much that I wish he could have shared. It so happens that today's cycling route takes us past the airport at a time which will coincide with Jay's BA flight arrival perfectly. The last time we spoke we agreed that I would meet him at the TDA camp in the late afternoon and he would need to arrange his own transportation to the site. Surprising him at the airport is irresistible and so romantic. I plan my morning so I can cycle to the airport and wait for him to enter through the arrival doors in my cycling gear and helmet. I feel like a jittery teenager waiting for my boyfriend. As he walked through the doors we broke down hugging and crying, finally! "I road my bicycle from Cairo to meet you here," I said.
Apr. 23 (by Jay) -JAY JOINS THE TOUR- Hello, It's Jay Gallagher, Ann's husband and in spite of my resistance Ann has asked me to write the blog for the remainder of the trip and I have accepted. Today my flight touched down in Windhoek, Namibia after about 16 hours of flight time plus 12 hours of layover time. To say the least I was a bit tired. I misplaced the name and address of the lodge where I was to meet up with the Tour. The border guard would not let me through because I couldn't fill in the "address while staying in Namibia" box on the entry form. I tried saying I was going to be camping but she wanted the exact address of my first campsite. I told her the only way I could get that information was to find an internet access point, log on to my web-mail and look up the address. "Then go!" she tells me as she grabs my passport and stuffs it in a drawer. "Come back when you have the address." AAARRRRGGGGHHHHH!!! So I left without passport, bike or luggage to find the missing information. As I'm scanning the airport to find an internet café' my eyes fall upon a very familiar face. It's Ann and she has ridden her bike to the airport to meet me! I did not at all expect to see her in the airport and as we embraced the tears flowed uncontrollably. Three and a half months is simply too long to be apart. Doubly lucky for me she has a brochure of the lodge/campsite with the address. Back in camp after a few introductions I unpack my bike and set about to reassembling it when I realize that the notch on the right side of my front fork has been pinched in transit to the point where I can't get my front wheel seated in it. It's a good thing that tomorrow is a rest day for the tour. If I can get the damage repaired, I ride with the group; if not, I simply cannot.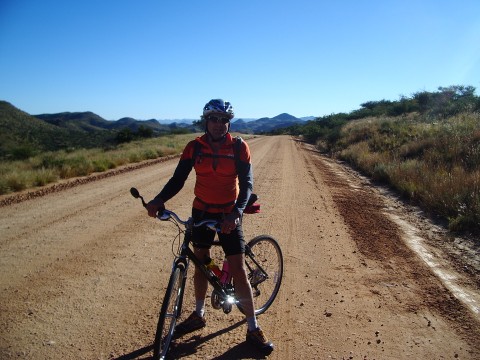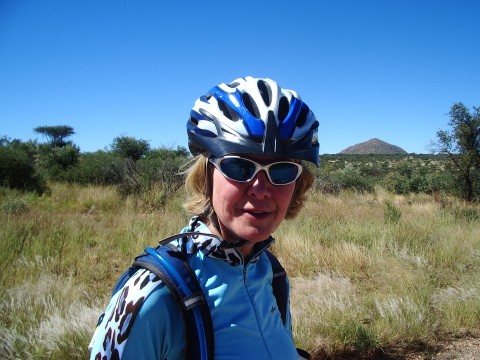 Apr. 24 –day 105- Windhoek -rest day- Windhoek is a bustling first-world town of about 300,00 people with great food, great wine and even a top notch bike shop, the very first that the tour has encountered. The owner is able to fix my damaged fork in about an hour's time and he charges me absolutely nothing. Being with the Tour d'Afrique has definite advantages. I slowly meet the people of the tour. It's a wide ranging group with ages from 18 to 71. This is not a place I can use my 59 years as an excuse for being slower or weaker than the others because about 1/3 of them are older than me! They are a fit and grizzled group who love adventure and live life to the fullest; the type of people who would actually sign up for a 4 month bicycle tour across Africa and my wife is now one of them. I'm actually humbled by being in their presence and honored to join them for a brief portion of this epic journey.
Apr. 25 –day 106- Windhoek to Bush Camp -147 km- NOT SO EASY- This morning at the rider meeting where everyone gathers to hear about the day's ride it is recommended that anyone choosing to ride a ½-day take the truck in the morning because it has some significant hills. Ann suggests that we ride our bikes a half-day in the afternoon but I'm having none of it. "I came here to ride so let's get going!" The road is gravel with very few smooth sections. We're constantly crossing back and forth looking for the smoothest parts because the rest of it is either hard and rocky (which is quite jarring), washboards (which are quite jarring), sand traps (as they call them) or very loose, deep gravel which will slow you to a crawl and by the time you grind your way through it your energy will be totally sapped. I can keep up with Ann on the flats and on the down-hills though I'm getting shaken apart without front suspension. The hills are another matter though. Every time we come to one she slowly and steadily pulls ahead of me. Some of them are quite long so she may end up ¼ or even ½ mile in front of me. She's quite polite and stops for me to catch up often. Each time I reach her I'm dog tired, drenched in sweat, rattled to the bone and panting like a dog on a hot summer day. I've got a pained expression on my face as I say "This is hard honey." She's smiling and laughing and has hardly broken a sweat. When I look at her disapprovingly she tells me "I'm not laughing at you…" but I don't see how she can be laughing with me because I'm not laughing. I barely make it the 72 km to the lunch truck which I happily ride into camp. For those of you who have said: "She's not riding the whole thing she takes the truck quite often."…trust me; a 5-6 hour half-day ride is not so easy.      
Apr. 26 – day 107- Bush Camp to Sesriem -155 km- FROST IN THE HILLS- This is the last Bush Camp (no toilets, showers or running water) of the tour as the rest are in campgrounds with toilets and showers. Some people are complaining that the tour is getting too civilized as it moves further south. We're in the southern hemisphere so it's coming into their fall season. It's the equivalent of our mid-October and getting cooler as we go south. They tell me we're at about 7,000 ft elevation. The combination of high altitude and desert conditions makes for very cold nights. Last night was cold enough for a bonfire which was quite enjoyable. They said they hadn't had one since Egypt (where it was winter). The scale of this expedition is unimaginable. This morning we awake to frost covering the ground, tents, bikes and all. We must get up at 4:45 a.m in the pitch dark because breakfast is served at 5:45 and we must be packed and ready to go by then. The ground is very hard and it's tough getting even a little hole dug to deposit the morning's constitution. Everyone pretty much keeps to themselves in the morning as it takes some concentration to break camp and prepare for the riding day. It's strange with a bunch of people wandering around quietly in the dark with headlamps on. I decide to take the advice for anyone wishing to ride a half day to take the truck in the morning. I'm surprised to see that many of the people whom I assumed were strong riders are also riding the truck this morning. It turns out that the next few days are longer than usual for the rough road conditions. Even some of the top riders are complaining. Apparently 3 ½ months of riding has taken the edge off of some of the egos though and I find the vast majority of riders and staff to be genuinely pleasant and helpful. Several riders have given me tips for getting through these rough days. With Ann sticking by me, in spite of her being stronger, I complete my second ½ day ride.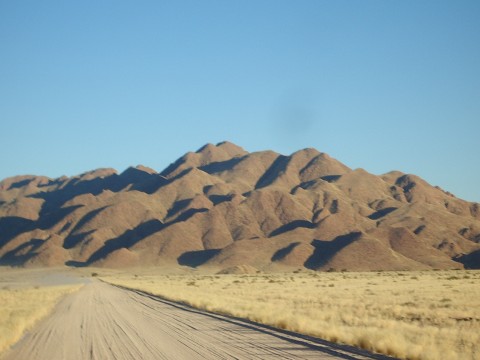 Apr. 27 –day 108- Sesriem –rest day- MISNOMER OF THE "REST" DAY- After only 2 days of riding I find myself really looking forward to a rest day. It would be nice to sleep in but at 5 a.m. there is a tour bus leaving to go see what is purported to be the tallest sand dune in the world at about 380 meters. About 20 riders pay the few bucks to go see it and they drive us into the Sossosvei portion of the Namib Desert where we're taken to "dune 45". We're able to climb to the top of this dune (about 90 meters tall) and watch the sunrise over this massive collection of pristine red sand dunes. It's really quite spectacular. Afterwards we're driven through the dunes to see Big Daddy (that's what the big dune is named) amid wildlife like Kudu, Springbok and Ostriches. On the drive back to camp they stop to show us a massive gash in the earth which can't be seen until you're right on top of it. It's probably 50 meters deep! We're back in camp by about 11 a.m. but we have lots of work to do. I have several adjustments to make on my bicycle including loosening the pedal clips so I can get out of them quicker. I've already fallen about a half dozen times and actually drew my first blood on day one. One of my brakes is sticking already and I want to change my saddle to one that's a little cushier; the hard bumps are tough on one's butt. I've yet to clean and lube my chain, derailers, and all of the sprockets which is supposed to be done on a daily basis because the sand will chew them up and cause them to malfunction. I need to rearrange my locker so I can be a little quicker in and out of it. I hate fumbling around at my locker while others are waiting to get into theirs. Ann's Thermarest mattress has had thorn holes in it for 3 months now and I told her I'd patch it. Ann is readjusting her camping routine because up until now she's had the whole tent to herself and has been able to spread out a bit more. In short there is actually very little rest on a rest day.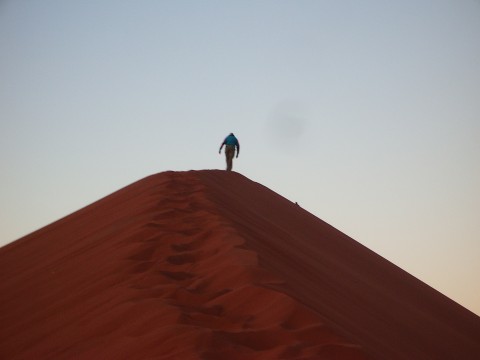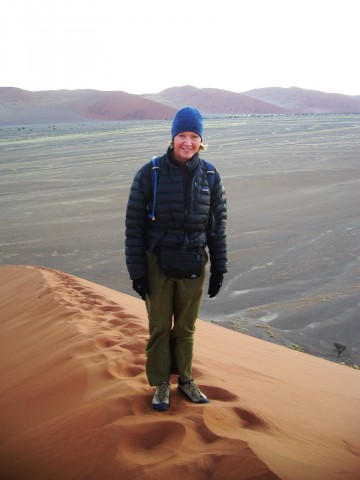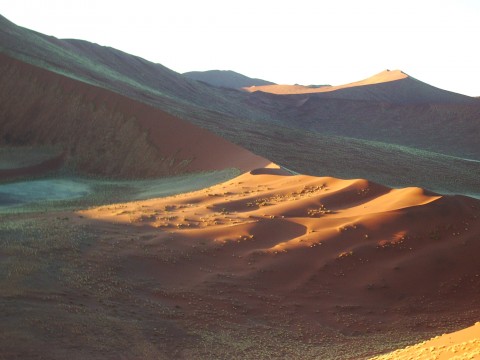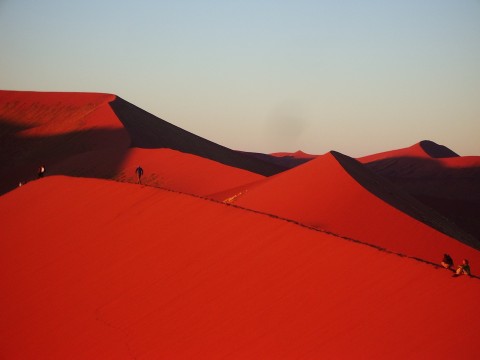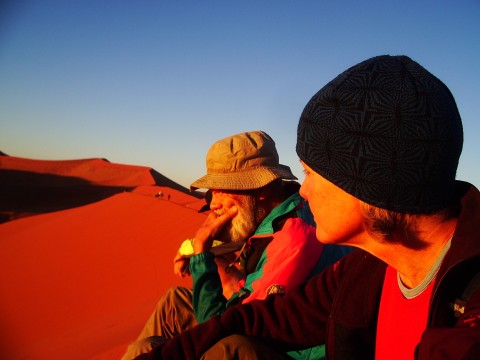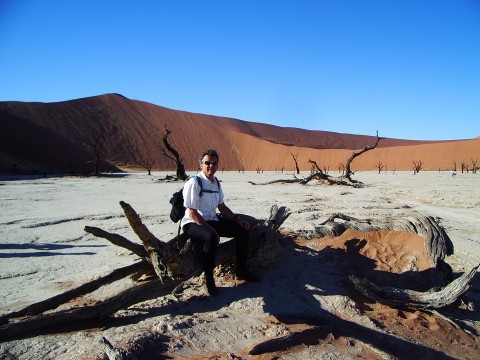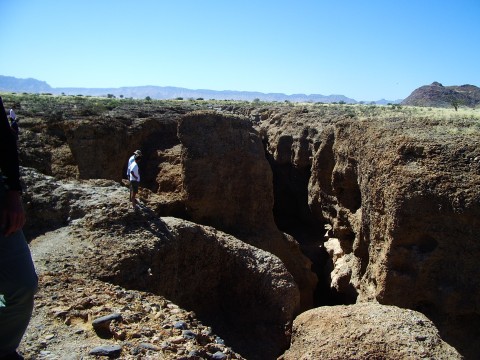 Apr. 28 –day 109- Sesriem to Betta -137 km- The Namib Dessert is an astonishingly beautiful place similar to the desert southwest in the U.S. with vast expanses and deep canyons. The ride starts out cool and crisp as the morning sun cuts across the landscape showing every fold of the land. The road is still bumpy though not as bad as the first two days with longer smooth sections. There are dried yellow grasses that have delicate, feathery tops which form a massive carpet reaching endless miles out to the base and part way up the sides of distant red mountains. I'm reminded we're in Africa when two Ostriches bolt across the road about 30 meters in front of us. They're running full tilt until they're about 300 meters away when they slow, then stop and turn to look back at us, as though we were going to try to catch them. The best thing about these rough roads is that there is almost no traffic. You really get the feel that you are in the middle of this great expanse alone. By lunch time we're very hot, dusty, rattled and tired and although I'm anxious to get my first full day of riding in it's not going to be today.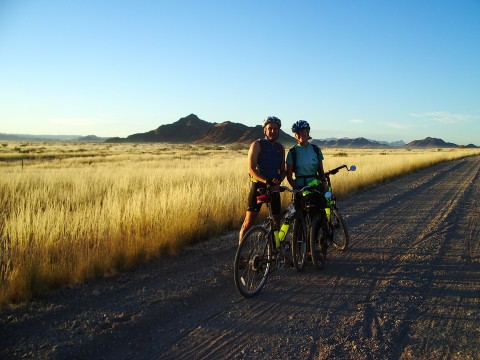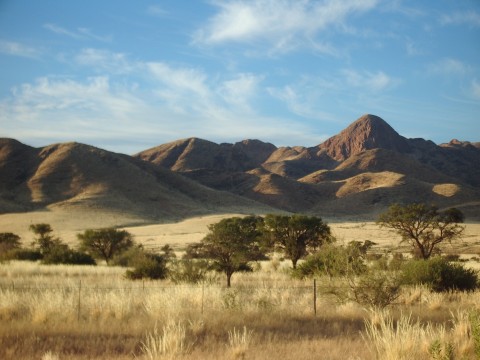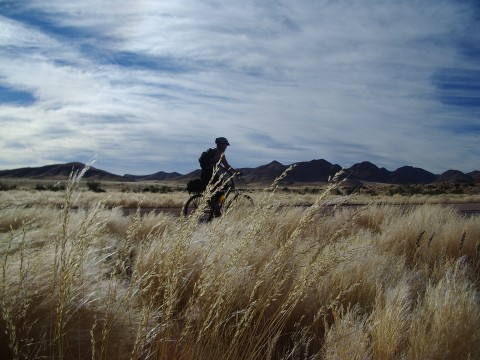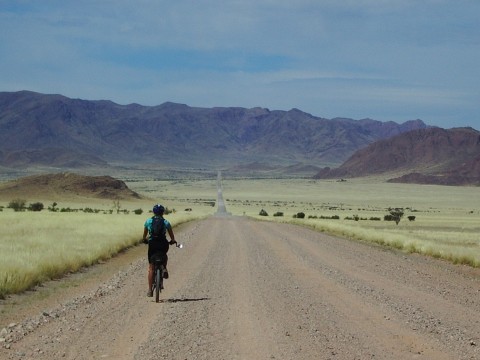 Apr. 29 –day 110- Betta to Konkiep -151 km- KUDOS TO THE EFI RIDERS- Many of the strongest riders are still complaining about the longer days in rough conditions. Since it's impossible to change the route at this point the staff is doing everything possible to make it easier on riders. They've broken the day into 4 segments rather than two to give more truck riding and bike riding options and more breaks for the all day riders. For me it's great. Ann and I decide to ride the first and last sections making for a 96km riding day with a good break in between. For the EFI (every fabulous inch) riders though it's still a long and arduous day. Many things have been said about the EFIers: "They're riding at their own peril through severe illnesses including Typhoid and dehydration". "Some have ridden with dysentery and bouts of vomiting and diarrhea and even a few cases of worms under the skin". "They're not enjoying themselves". "They're missing Africa".  You have to hand it to them though; it's an unbelievable accomplishment and deserving of praise and recognition.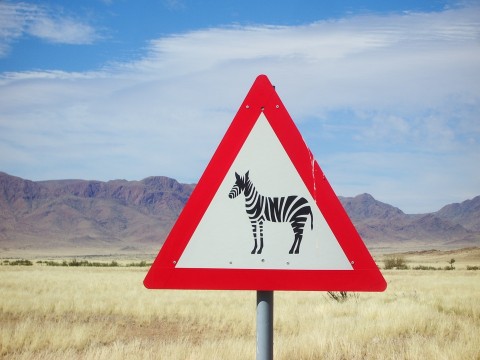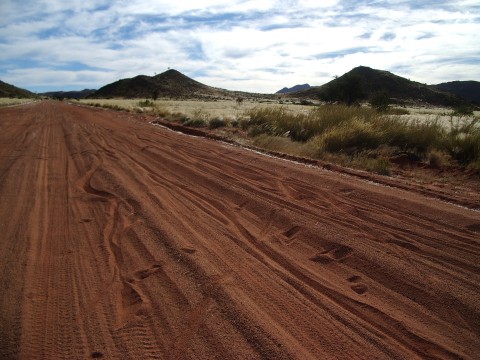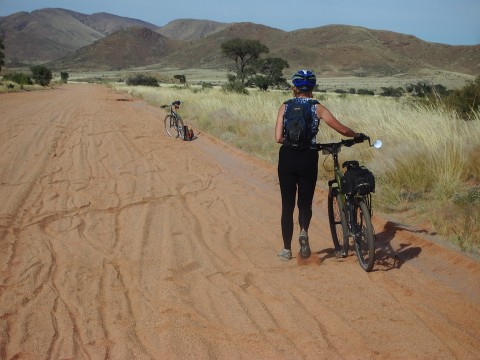 Apr. 30 –day 111- Konkiep to Seeheim -130 km- JAY'S FIRST FULL DAY OF RIDING- After the first 36 km the road turns to pavement for the first time since I joined the tour. We're riding at a slight uphill grade however and into a moderate headwind. The combination is enough to keep our speed down and drag the morning out quite a bit. Ann hates this type of riding on her mountain bike which is heavier, has fatter tires and is slower. Somehow at lunch I get a second wind though and since my road bike likes the pavement much better I decide to push on and ride the afternoon as well. I'm riding with Simon, a Britt, who's been on the tour from the get-go. The wind has died and the terrain is varied with some climbing and some exhilarating down-hills. This is a blast! Simon also has a mountain bike so I can pass him on the downhill sections but he kills me on the climbs, just like Ann. We reach the turn to the campsite onto a gravel road. We've been flying downhill so fast all afternoon though that I'm riding a bit too fast. At the bottom of a long hill is a big sand trap and I gear down to power through it but I'm off balance and my tire augers in, turns sideways and stops dead. You guessed it, over the handlebars and FWOP onto the gravel road directly onto my right shoulder with a resounding CRACK as my helmet hits the dirt. Ouch. Man that really rang my bell. It was a great riding day but now I'm whimpering into camp and my shoulder hurts like hell.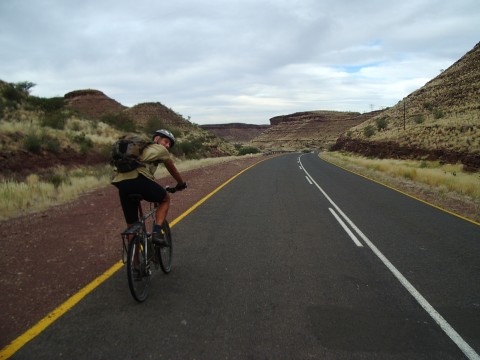 May 1 –day 112- Seeheim to Hobas -110 km- FINE DINING IN NAMIBIAN CANYONS- The good news is there's no concussion but the bad news is my shoulder is still killing me. The nurse checks it out and says it probably not broken or separated but may be cracked. She gives me Tylenol for the pain and Ibuprofen for the swelling. After breakfast I suggest to Ann that we ride the afternoon and she agrees. One of then things that break up the monotony of hours and hours of bike riding is the little stops along the way. There are usually a dozen or so riders there so it's a place to chat about the day. Today one of the stops is the Canyon Road House which is a lovely little restaurant/coffee shop in the middle of nowhere. They have old rusted cars around the grounds as part of the motif. Ann, Earnest, Michelle and I sit at a shaded outdoor table and are surprised to see that the menu is very cosmopolitan. Toasted avocado with feta and olives, light mixed greens salad with balsamic vinaigrette dressing  grilled chicken liver sandwich and a cheese cake that rivals any in Chicago are just a few of the items. I tell them, this doesn't seem so third world and they all just glare at me. "You haven't seen anything" they tell me. After we ride into camp the trucks gather us all up and drive a few km to the Fish River Canyon overlook. It is a gorgeous deep canyon with loops like the San Juan River in Utah. We crossed the river yesterday and it's been mostly uphill to get to this overlook.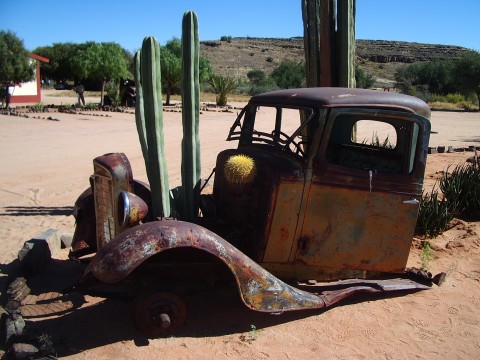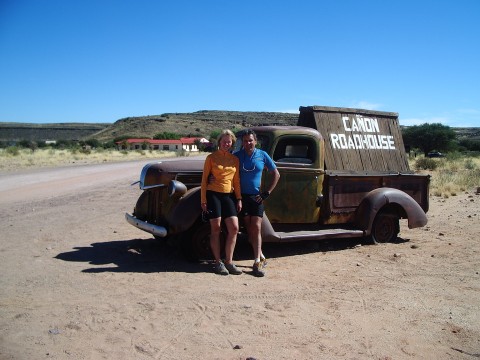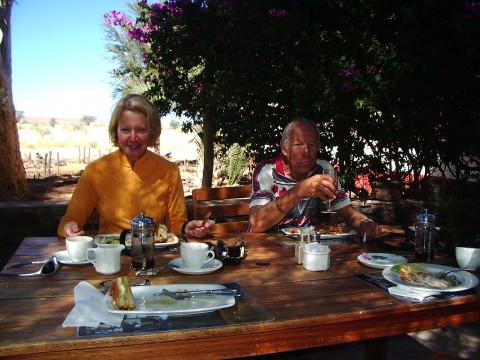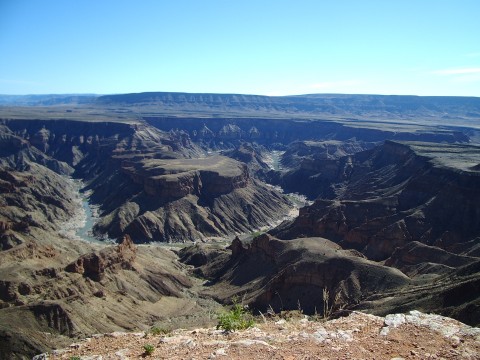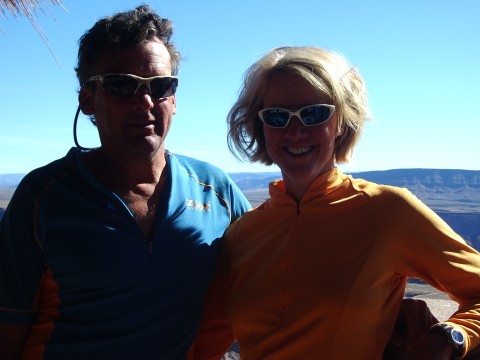 May 2 –day 113- Hobas to Felix Unite -174 km- CANIBAL BUGS- It's extremely hot by mid day and the road is littered with huge bugs. Many have been squashed by cars but the strange thing is that the dead bugs have attracted more of the same species and they're canabalizing their own! It's a strange cycle: bugs get hit by cars, more bugs come to eat the dead, more bugs get hit by cars. At some points along the road there are hundreds of them and we squish a few more with our bike tires. The campground we stayed in last night had little one-room cabins for rent for $5 per person. It's definitely worth the price not to have to put up the tent. The showers are great at this campground and no one is missing "bottle showers" where you essentially have to wash up in the bush with one liter of water. They all tell me I don't know what I'm missing. My shoulder is still quite sore and it's a long day so again I opt for the half day of riding. I'm not sure how many miles there are in 84km but it's many long hours and my butt is quite sore before it's over.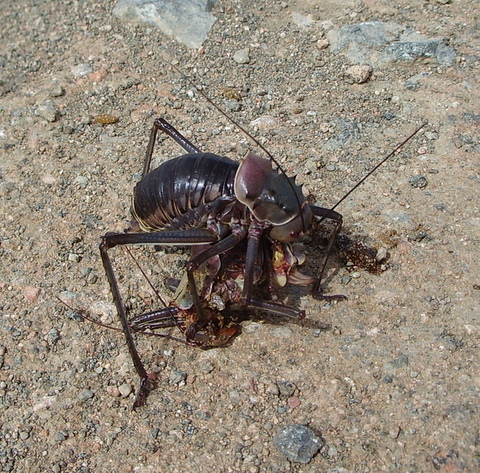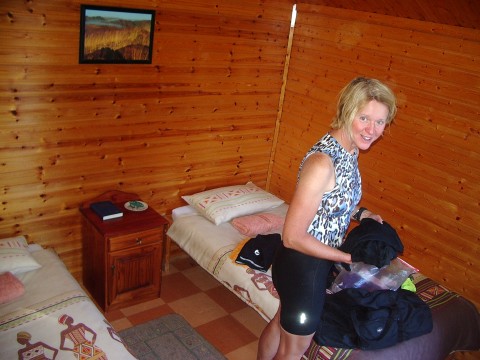 May 3 –day 114- Felix Unite -rest day- The last rest day of the Tour d'Afrique!- Ah, rest day. The campground is along the Orange River, the dividing line between Namibia and South Africa and they have nice little cabanas with grass roofs overlooking the river. Today by golly I'm bound and determined to catch up with the blog. Even after writing virtually all day however I've still got a couple days to go and as far as internet access goes, forget it. I thought that since the tour was heading into more westernized areas in Namibia and South Africa we'd have better access but that's not the case. Most of the nice campgrounds and restaurants are self contained with their own generators, wells, water pumps, bottled gas and sewage treatment.