South Africa
May 4 -day 115- Felix Unite to Sprimgbok -133 km- I love riding in the morning. The rising sun accentuates any landscape. The air is cold but the cycling gets us warmed up. This morning we cycle just 10 km in a cold fog to the South African border. It's mostly an eventless crossing except for Peter from the Netherlands who somehow didn't get his passport stamped properly in Namibia and they're saying he can't come in. He's taken aside and as many of us ride by we tell him all things considered, if you're going to get stuck in a country in Africa, Namibia's a pretty nice place to stay! (Of course they worked it out and he's still with us.) Once in South Africa we immediately start climbing some pretty steep hills. This heats our bodies enough to strip the outer layers down to bike shorts and jerseys. After just 10 days on the tour I'm starting o feel stronger already. I'm actually enjoying the climbs. By the time this day is through though I am very ready to get off the bike. 
May 5 -day 116- Springbok to Garies -117 km- NEED MONEY EXCHANGED? SIGN HERE…AND HERE, AND HERE, AND HERE, AND HERE. Today we ended up in a tiny little hamlet called Garies. It's a one-horse town that you can throw a stone from one end to the other. In spite of its small size there is one hotel and 2 guest houses on the main drag. Because of this proliferation of room choices the prices are very reasonable and we opt for a room rather than pitching the tent again at the campsite just outside of town. We're low on local cash so we went to the bank to change US dollars into South African Rand. Before making the exchange however Ann had to let them do a scan of her passport and fill out and sign no less than 4 documents before they'd give her the Rand. We stayed at a guest house owned by a woman whose South African accent I mistook for British and when I asked her how long she had lived in this little town she said "all my life". I was so stunned my jaw literally dropped as I shook my head in disbelief. Realizing my rude response too late I quickly stammered "It's just so unusual to find someone staying in one place for so long these days." Believe it or not, later that evening the woman from the bank came over to Sophia's Guest House and told "Aunt Sophia" that she had two more documents which she had forgotten to get Ann to sign in the bank for the money change!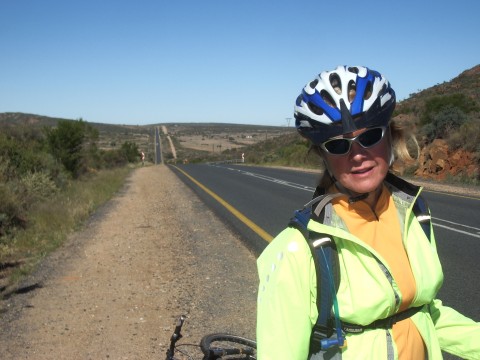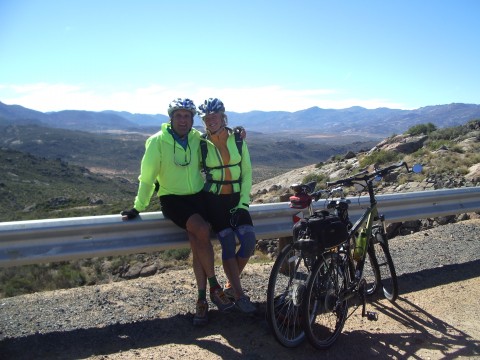 May 6 –day 117- Garies to Vanrynsdorp -148 km- SECRET FRIEND- To add some humor and break up the monotony of the tour the staff has occasionally put forth contests or quests and the like to spice things up. One was called the "secret friend". Everyone's (including staff's) name was put into a hat and each person drew one name out. You had 3 days to come up with a special gift for your secret friend. It could be home-made or store bought but the suggested spending limit was 10 Rand (a little over a dollar). Being the new guy on the tour I was at a distinct disadvantage because I had so little time to get to know people. My secret friend was Claire, one of the younger riders and seemingly quiet to me. When I asked around though I was informed that she was a bit of a wild one having ridden naked for a section that some of the riders referred to as "the naked mile" where everyone was supposed to ride naked for a mile and apparently about 5 or 6 actually did! I crafted a set of pasties for her out of a couple of tire patches to which I stuck pinwheels of narrow green leaves and topped it off with a couple of tassels made from a short section of orange nylon rope that I had found. I made them "stickable" by adding double stick duct tape to the back side. It got quite a laugh and she proudly wore them (over her sweatshirt of course). Ann got one of the truck drivers for her secret friend. We were all sick of one song an a CD that he kept playing over and over and over again so she bought a blank CD and had one of the staff who had a laptop burn a single song on it for him.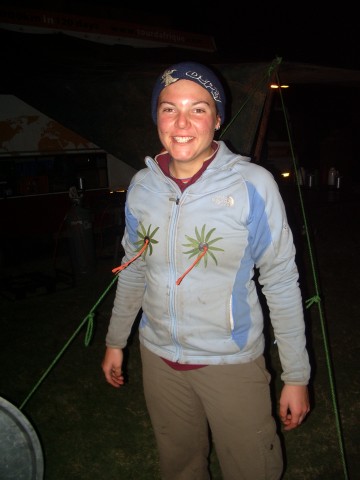 May 7 –day 118- Vanrynsdorp to Elands Bay -112 km- A LITTLE HELP FROM A FRIEND- Today we're back on rough, rocky, corrugated roads again after a few days of nice paved riding. We elect to ride a half day only but even at 60 km I can't stand it. I'm sliding in sand, falling on gravel and generally not having a good time. Ann is again way ahead of me on the hills and after almost crashing once more I start walking my bike and sticking out my thumb to hitch a ride. A big old farm truck pulls over that has several workers in the back. The driver says to put my bike in the back and climb in the cab. We reach Ann shortly and I ask him to pick her up too. She laughs but throws her bike in the back too. Our driver is a grizzled old South African farmer whom we can barely understand. "I'm 73 years old and I own this farm here. It runs from that mountain to that mountain" and he points out two mountains on either side of the road that each look about 30-40 kilometers away. "I'm trying to retire but it's really hard" he tells us. He takes us just 6 km or so down the road and turns onto a side street. The workers hand our bikes over the rail and even though our tires are covered in sheep dung somehow I get the energy to finish the ride.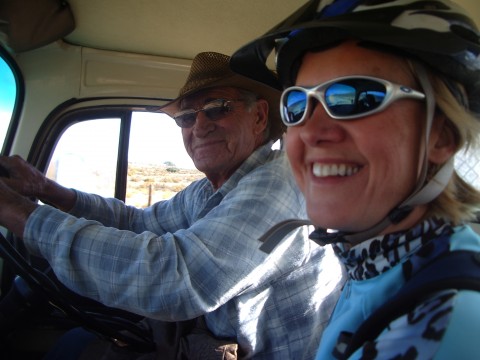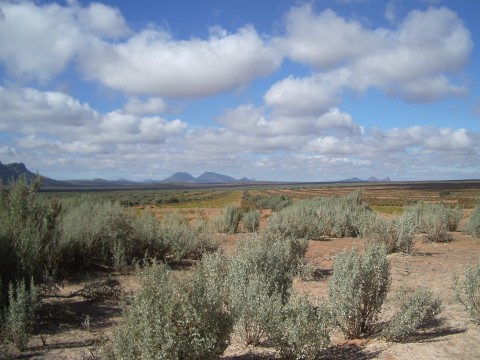 May 8 –day 119- Elands Bay to Yzerfontein -146 km- 4 SQUARES A DAY- We're back on the tarmac today and in headwinds (Ann's least favorite conditions). The break in the middle of the day that everyone is abuzz about is a stop at a restaurant chain called Wimpy's. You can get a hamburger, an ice cream sundae, a cappuccino etc. This is the third one we've stopped at since I've been on the tour. It never ceases to amaze me how these people can eat breakfast, lunch and dinner served by the Tour d'Afrique and then stop at a restaurant mid day and have another breakfast (with bacon, eggs, sausage, potatoes, toast, juice and coffee) or another lunch (with cheeseburger, fries, a milkshake and desert). I'm telling you they can really pack it away and frankly I'm following right in their footsteps.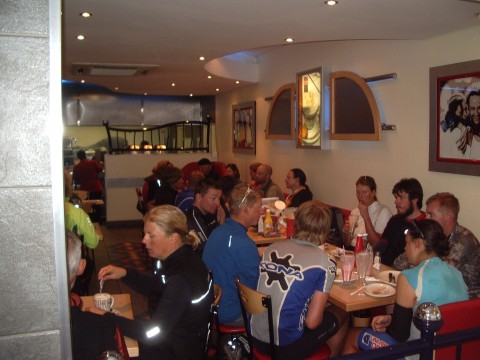 May 9 –day 120- Elands Bay to Cape Town -112 km- THE END- We cycle to a section of beach on the Atlantic Ocean about 30 km outside of Cape Town. The famed Table Mountain which rises up out of the great city is clearly visible in the distance. We're all given custom made Tour d'Afrique cycling jerseys and there is a special lunch spread with gourmet cheeses, salamis, meats, delicious breads, fresh fruits etc. Everyone laughs wondering why they couldn't have had lunches like this all along. Photos are taken with bikes on the beach and everyone is in a wonderful mood. It's warm and sunny and we have a police escort for the triumphant 30 km caravan into the heart of Cape Town. As we're nearing the downtown waterfront there are throngs of people cheering and clapping. We arrive at an area of tented canopies next to an amphitheatre where helpers grab our bikes and move them to a secure area. Many of the riders have family that are greeting and hugging them. The media is there, the acting Mayor of Cape Town is there. There is a live minstrel band of about 30 musicians dressed up in bright yellow, red and green satin costumes playing Dixieland type music. We're each to line up in alphabetical order behind our respective country flags and form a procession onto the main stage of the amphitheatre that is packed with onlookers. There is an MC reading off all of our names as each country's team leader holds their flag up and circles the stage then placing each of the flags in a stand. We each stand proudly behind our respective colors. There are 9 countries represented. After all of the riders are in place the awards are given out for the race winners. There is just one female cyclist who has remained in the race but her time is second overall beating out all of the men except one. She's a slip of a young woman probably weighing 90 pounds soaking wet but what a strong and unbelievably fast rider. After about 90 minutes of fanfare and pomp and circumstance suddenly the Tour d'Afrique 2009 is over. Though we may see many of the riders over the next couple of days, packing up bicycles for shipping back to our home countries and touring Cape Town and the surrounding area it's still a very sudden, abrupt ending. All are relieved and ready for the end but there's certain sadness in it as well. Living a nomadic lifestyle for 120 days with strangers from around the globe in physically and mentally challenging conditions is over. The final chapter of Tour d'Afrique 2009 has reached the end.