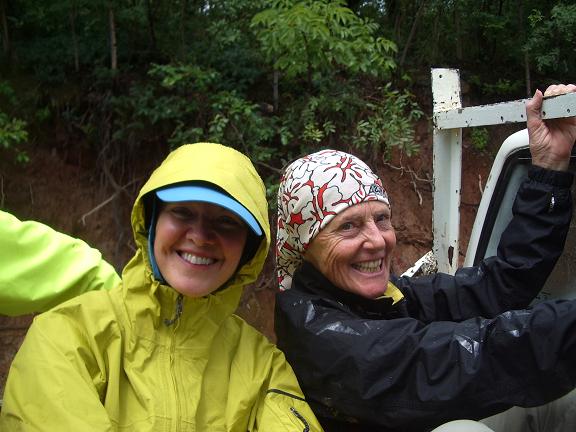 Apr. 12- day 93- EASTER SUNDAY- The place we're staying is called Zigzag. The term was actually coined right here. As the Zambezi River coursed through here a few million years ago, it plunged over the edge of the lava-based basalt creating the first waterfall over 100 km downstream from the present falls. The hard basalt and the soft limestone eroded back differently creating waterfalls over the east/west fissures and cutting grooves in the north/south sections which created the "zigzag"  pattern leading back to the current falls. I spend most of the day at the internet café. I'm finally able to E-mail some of my photos to Jay. Afterwards we talk by cell phone and I pour out the last several days of my experience to him. Tomorrow it's back to the grind of the tour but after 5 days off I'm actually looking forward to jumping back in the saddle.
Apr. 11- day 92- THE ESSENCE OF COLONIALISM- I'm thankful that we arrived a couple of days early as the town of Livingstone is completely booked now for the Easter weekend. We've had to move lodgings 3 times as the crowds have arrived. We saw a couple of the TDA riders at lunch and they inform us that the line to get into the Falls Park is excruciatingly long. How lucky we are to have seen the falls in relative solitude over the last 2 days. We decide to cross the bridge into Zimbabwe to get a different perspective of the falls. From this side the falls are much closer and the thundering water is so loud we can't talk at times. It's well worth the cost of the visa and additional Park fees. I've always had a curiosity and appreciation for old colonial architecture and culture so we decide to go see Zimbabwe's famed Victoria Falls Hotel. Entering the impeccably manicured grounds is like entering an elegant inequitable bygone era. We approach a wide brick paved, terra cotta trimmed terrace and are greeted by a waiter in white waist coat and black bow tie. We are served "high tea" (taken in the afternoon traditionally with finger sandwiches, scones and pastries) complete with a cake tower, fresh whipped cream (no miracle whip here!) and fresh preserves. The table is set with starched white napkins, fine white china and real silverware. We are sipping our tea, nibbling sweets and overlooking the spectacular chasm of the Zambezi River with the smoke that thunders in the background. After 3 months in the bush we are giddy to experience the finer things. Lest we forget we are in Africa there is a pack of well fed warthogs crossing the spacious lawn in front while a group of baboons scramble up the white walls of the grand old building onto the red terra cotta roof, swinging from the gutters and then back down again and otherwise entertaining the guests. A dozen or so Mongoose scramble down a hill in the distance and we can only imagine what it may have been like back in the day at this bastion of the British Empire, the essence of Colonialism. I check the room rates but at $205 per person we obviously won't be spending the night. I wonder if this classic historic hotel will survive the implosion of Zimbabwe at the hands of its current leader Robert Mugabe.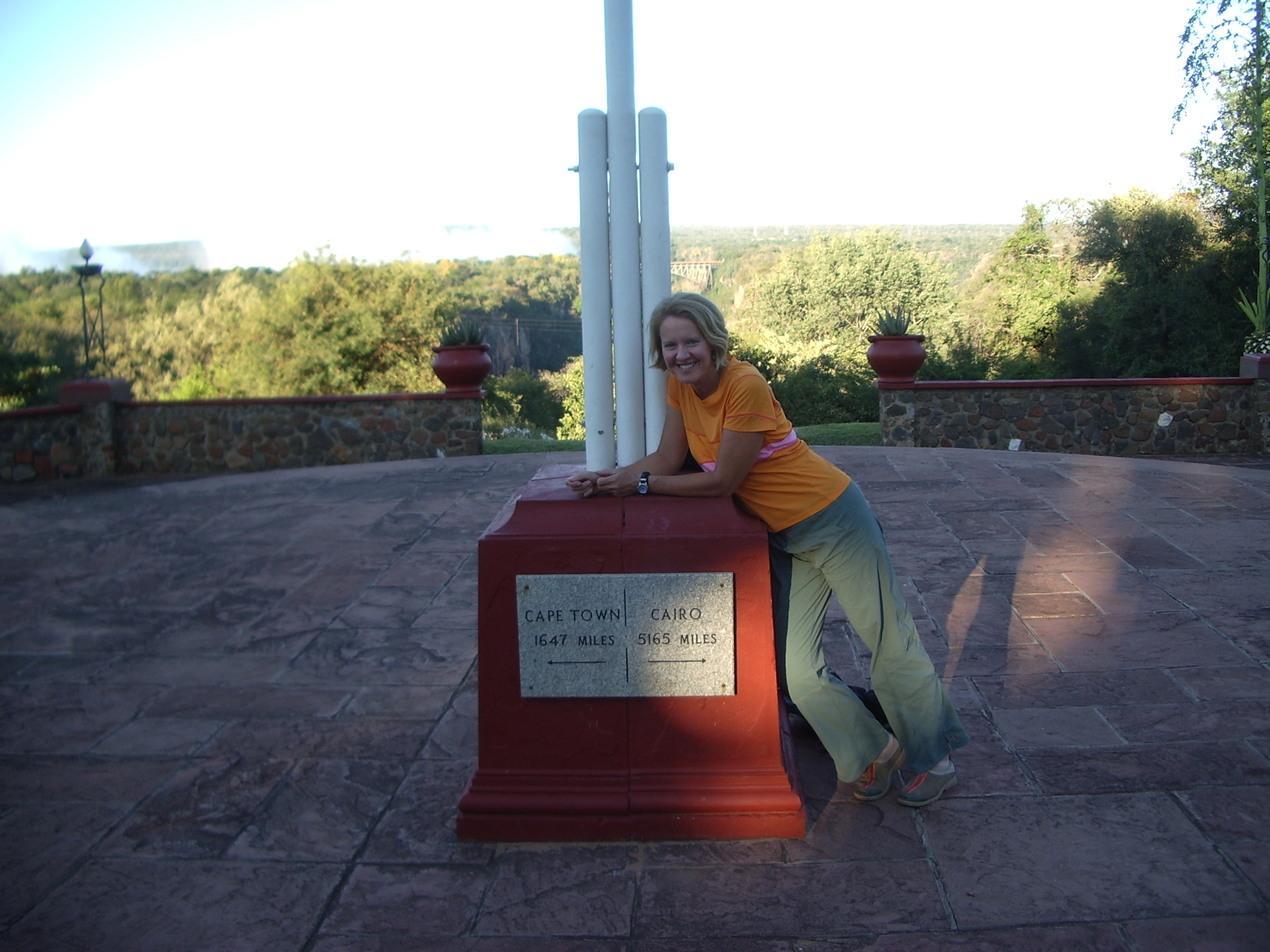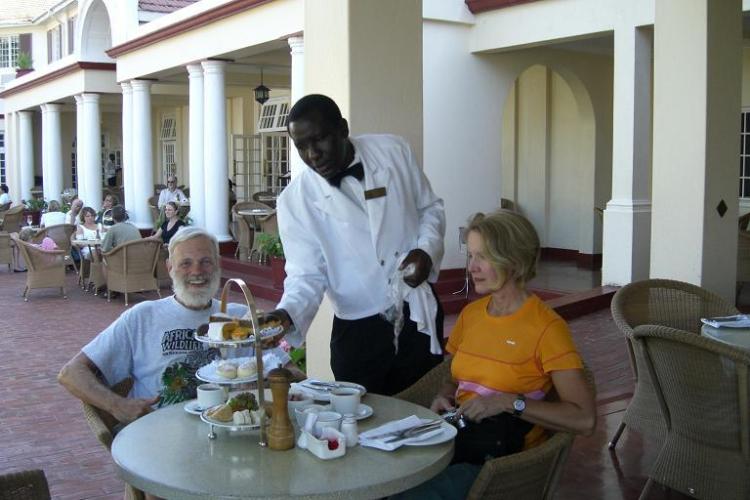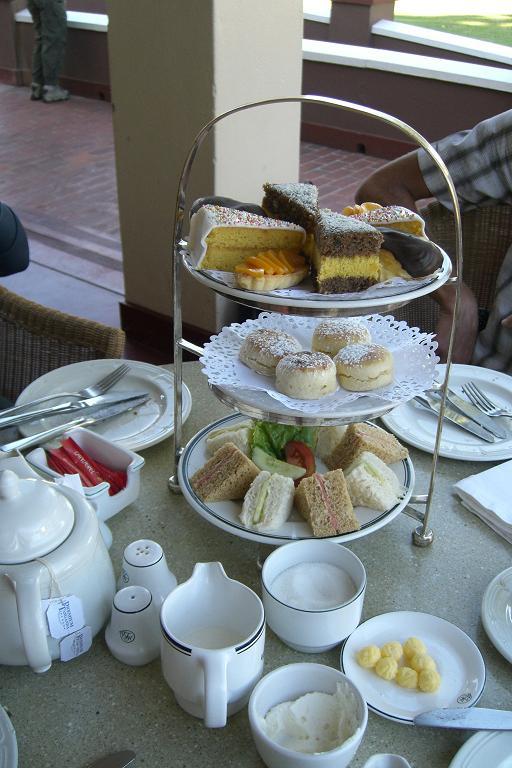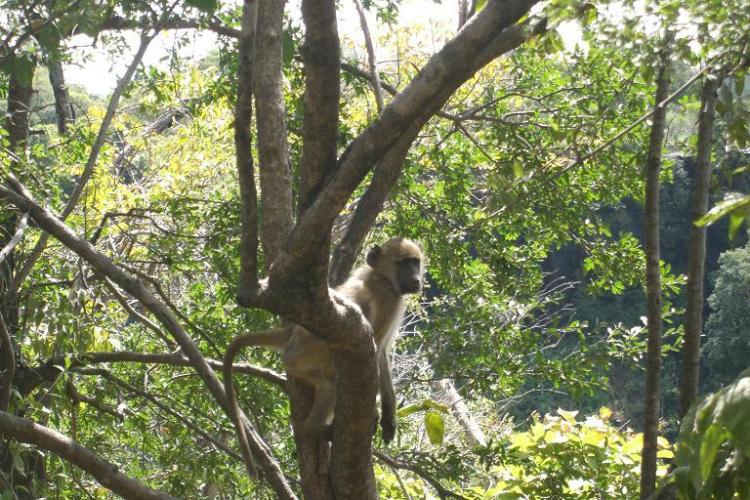 Apr. 10- day 91- THE SMOKE THAT THUNDERS- Victoria Falls as I mentioned earlier was named by Dr. David Livingstone, a Scottish explorer, in 1855. Prior to that the indigenous people of the area called it Mosi Oa Tunya which translates "the smoke that thunders" from the columns of spray that rise hundreds of meters in the air and are sometimes visible from 32 kilometers away. The falls are one of the Seven Wonders of the World and were designated a World Heritage Site in 1983. We are here during peak flow at the end of the rainy season and the water spray is so dense that everything is hidden in the mist and the thunder of the falling water can be heard for miles. The Zambezi River, 4th longest in the world, flows over hundreds of kilometers of flat basalt rock before plunging 360 ft. into the lower valley.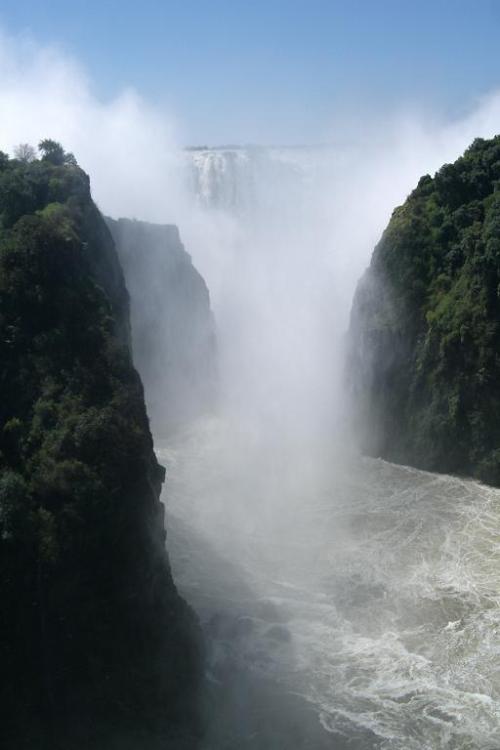 Apr. 9- day 90- Livingstone, Victoria Falls- RAINBOWS & ASHES- We catch a taxi to the Victoria Falls area and stuff ourselves at a sumptuous breakfast buffet at an upscale resort on the river. The overweight guests are noticeable compared to our lean and mean cycling entourage. They seem out of place in the Africa we've seen so far. Exploring the variety of lookout points over Victoria Falls is a wet and wild experience during the high water season and we are quickly soaked to the bone. We're curious about the bridge over the Zambezi River which has bungee jumping. One side of the bridge is in Zambia and the other is in Zimbabwe with the actual border on the bridge itself and we must get bridge passes to check it out. Earnest has decided to jump as it has been on his bucket list for some time. After stepping up and receiving his instructions he reaches into his pocket and pulls out the third of 4 vials of his recently deceased wife's ashes which he has been scattering across Africa. As he leaps off of the bridge he intersects the arc of a rainbow created by the mists of the falls reflecting in the sunlight. He plunges straight down and when the chord reaches the end he is pulled right back up where, at the very pinnacle of the recoil, he opens the vial. The ashes fly about mixing with the misty rainbow encircling Earnest. I know that her spirit was with him during that jump; so much so that he was jumping tandem for the price of one.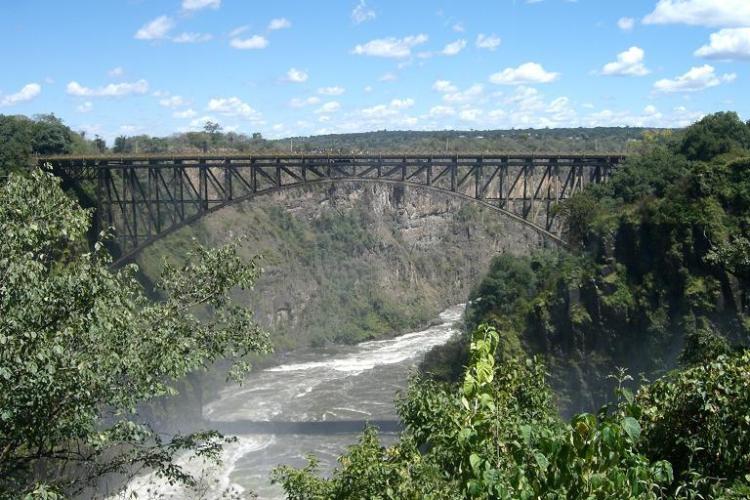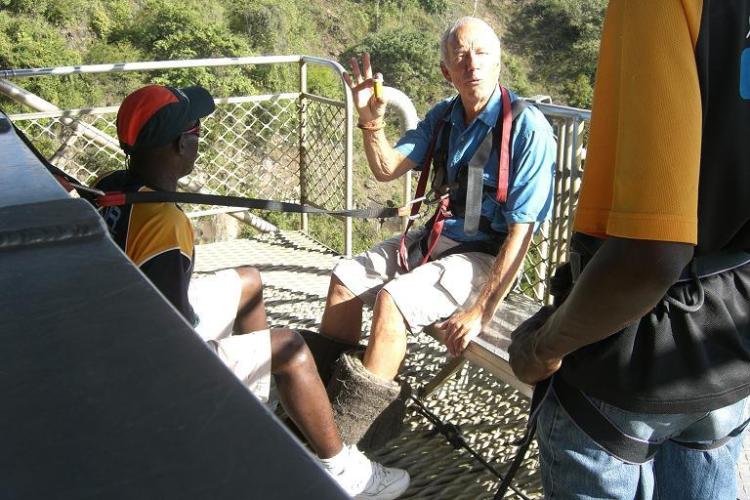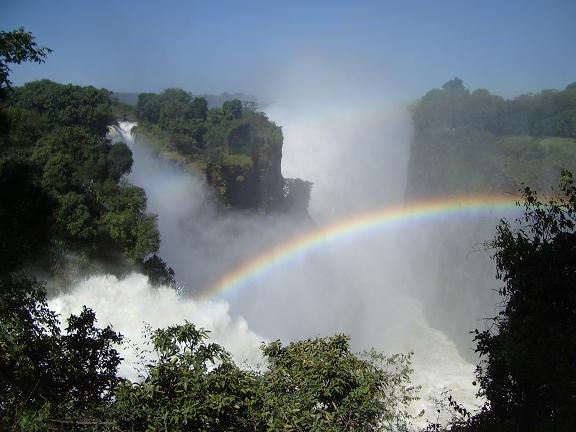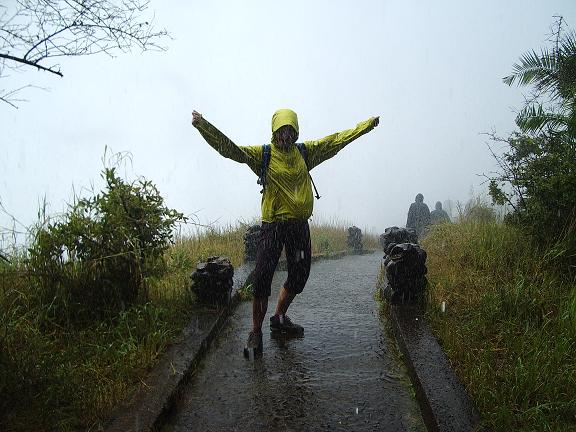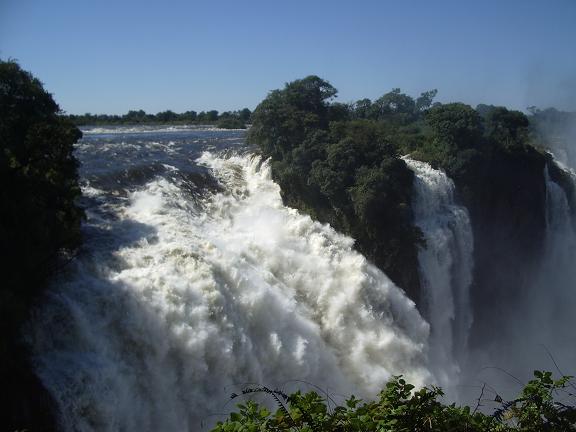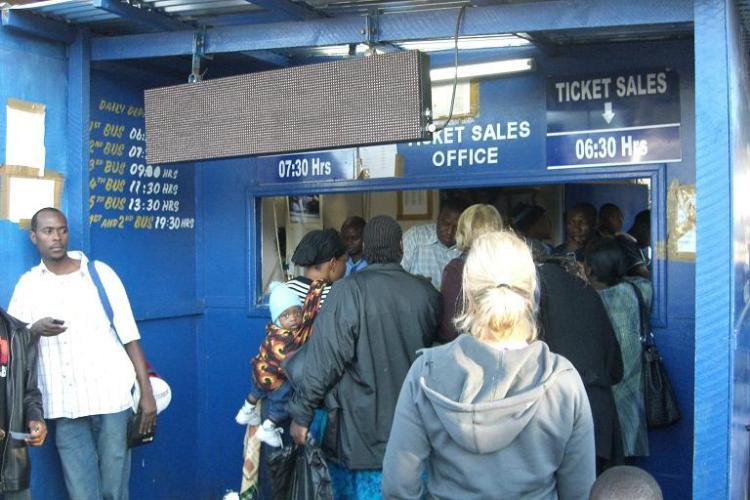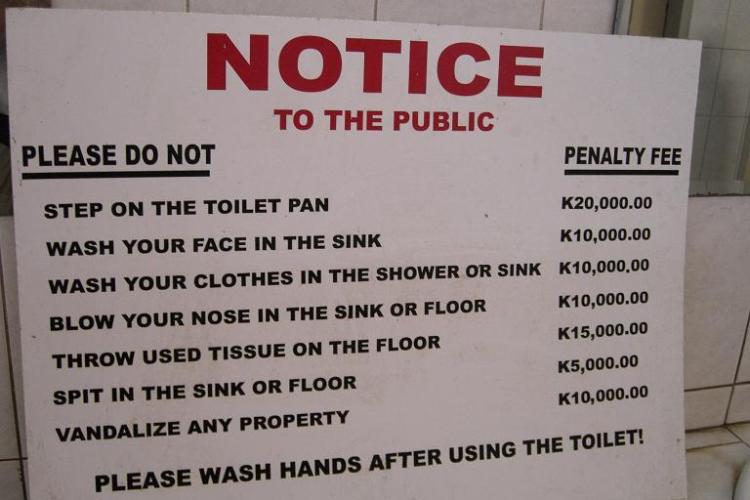 Apr. 8- day 89- A WELCOME SURPRISE- Counting the days until Jay's arrival in Namibia I'm doing what I can to diversify my experience until then. Anna, from Sweden, approached John, Earnest and me about extending our stay in Victoria Falls by departing from the group by bus today which will give us 5 nights in Livingstone (near the Falls) instead of the scheduled 3. It also knocks off 3 cycling days which is A-O K by me. This time we'll be ahead of the tour instead of behind them. By the time we find a clean, fairly upscale bus to book the 4 of us are joined by 4 others. Apparently we're not alone in desiring a change in our Africa experience. We couldn't help but chuckle when we got to a dirt road detour imagining our comrades sporting their slicks (skinny tires made for tarmac)…Is that wrong? Our guest house, which I located on the internet, is clean and everything works. It's a welcome surprise for us, an extended trip to Victoria Falls and lodging in which I'm not fearful of laying my head on the pillow. 
Apr. 7- day 88- Lusaka-rest day- MALL RATS- Back home I loathe malls. If I absolutely need to purchase something in a mall I go in and out as quickly as possible. In Africa however after experiencing nothing but tiny little store front shacks with tiring price negotiations, a mall is a treat. This mall is particularly odd. After we eat a fabulous dinner at a restaurant chain called Rhapsody I can't help but wonder if this is really Zambia. The parking lot is filled with late model cars and SUVs and the grounds are well manicured with beautiful landscaping and clean walkways. I could be anywhere in North America except for the palm trees. I may as well be on another planet compared to the round mud hut villages that we've cycled through in the last few days. The juxtaposition is bizarre.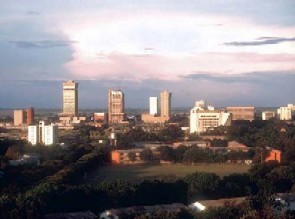 Apr. 6- day 87- Jehovah Camp to Lusaka -104km- MAINTENANCE FREE- Most of our rest days are located on the grounds of some type of lodging/campsite and many of them quite frankly are real dumps. Think of it. What decent hotelier would like to see on their grounds two massive trucks and 60 or so filthy bike riders most of whom are camping in tents and have spread their laundry out all over the place? Usually a few rooms are available for those willing to spend a few bucks to sleep in a "real" bed and have a toilet and private shower. Most are not pretty but you take what you can get. After 5 days of cycling and sleeping in bush camps I'm desperate for a private room. I can't help but wonder if the word maintenance is a part of the vocabulary of various African languages. My room has hot water-Yeah!; my room has lights that work- Yeah!; my room has a toilet seat- Yeah! My room has 2 doors going outside, one does not close and the other is missing a door handle and lock all together…it's always something.
Apr. 5- day 86- Bush Camp to Jehovah Camp - HEAVEN HELPED US- It's Palm Sunday and as we cycle through the tiny villages we can hear singing from the congregations of several small churches. No field labor is taking place and it is apparent that everyone is dressed in their Sunday best. I marvel at how clean and smart some of them look when I know that most of them live in mud huts and have to carry water on their heads for long distances for drinking, cooking and bathing purposes. It seems appropriate that our campsite tonight is on the grounds of a Jehovah Witness Temple. There are no enterprising locals who will deliver beer to our campsite so it is a dry night…and it didn't rain either!
SWEPT UP WITH RECOGNITION- At the pre-dinner rider meeting a few TDA plaques are distributed to some "unsung heroes". My old pals John and Earnest and I receive the "sweep" awards acknowledged by small handmade brooms which are supplemented by 3 plaques. John is recognized as the "chamois cream king" as he is often seen applying numerous layers of "butt butter" throughout the cycling day. Earnest receives the "hero" award just because, and I receive the "off road queen" award because I smile the most when I'm riding off road. The TDA staff made a kind and thoughtful gesture and we appreciate being swept up with recognition.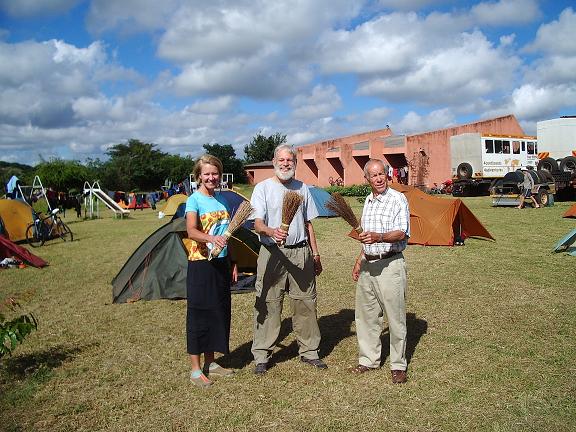 Apr. 4- day 85- Zulu Kraal to Bush Camp -135 km- BATHING BEAUTIES- As we ride into some of our campsites I often wonder: "Is this really the best we can do?" This bush camp is on the yuckier side of the many we have experienced but we learn that there is a water pump available back in the woods for washing. I assemble my necessary toiletries, towel and change of clothes and head out to see what I can do to clean my body of the road grime. I come to a clearing and there are about 6 of my male comrades sitting bare chested in small plastic tubs not much wider than their behinds wearing their cycling shorts and attempting to bathe. Damn where is my camera when I need it? I retreat back into the bushes with my small bucket of water and perform hygienic miracles under the circumstances. I am certain I will not use water when I get back home with the cavalier manner that I have in the past after this African odyssey where so little of so many things go such a long way.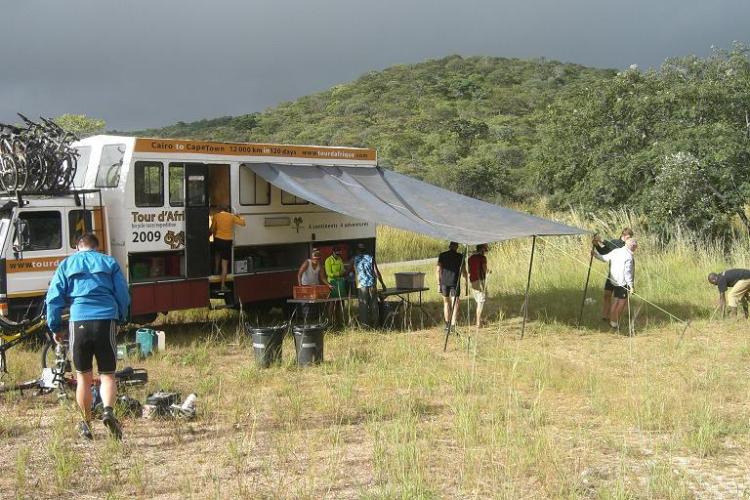 Apr. 3- day 84- Thitata to Zulu Kraal -174 km (108 miles!)- TIRES NOT TIRED- Rana, one of the sectional riders from the Lonely Planet, agreed to sell me her thinner, smoother Schwalbe road bike tires before she left Lilongwe to return to San Francisco. After changing out my bigger mountain bike tires at the lunch break I immediately notice a huge difference in speed and effort that it takes to move my bike along on the tarmac. Thanks Rana! These tires will make my push to the finish line much more enjoyable. If only I had more knowledge about bicycles and tires before the trip I could have eliminated a lot of physical strain and mental frustration. I am so thrilled to have these now. The thinner tires make all the difference.
Apr. 2- day 83- Lilongwe to Thitata-145 km- DUCT TAPE FOR THE SURLY- It's raining cats and dogs at the border into Zambia and 4 of us elect to hitch a ride on the lunch truck for the last 22 km into camp. There is a lodge at the camp and we rush to the reception desk to secure rooms if available. The 4 of us rent the last 2 rooms and are relieved that we don't have to pitch tents in the pouring rain. Another rider approaches and is told no rooms are available. She snarls something at me about the relationship between riding the truck and getting a room. What she doesn't mention is that 20 rooms were available 18 of which were rented by cyclists who arrived before her. I'm not going to feel guilty for only riding 76 miles today. It sounds like she has a few options: 1) cycle faster, 2) take the truck, 3) acknowledge that she is not the center of the universe, 4) place duct tape over her surly mouth!
Apr. 1- day 82- Lilongwe TDA rest day- THE PASSION WITHIN- We catch a 6:30 a.m. bus to Lilongwe to rejoin the tour. We were advised by our innkeeper to purchase our ticket the day of departure so that we could actually see the bus that we are going to ride for 7 hours rather than buy it a day in advance from the aggressive "touts" who all claim that their bus is the latest and greatest, the most comfortable and of course the fastest and the classiest! We choose a nice looking bus that is supposed to be the express, but after some time there is a smell that is somewhat reminiscent of the lovely latrines that we have endured throughout our journey. I've brought along a special mixture of essential oils and distilled water for just such occasions but in spite of spraying it a number of times the assault on my senses remains. We're quite hungry when we arrive at the chaotic Lilongwe bus terminal but must first push our way through a throng of cab drivers and hustlers trying to sell us anything and everything. We find our way down a street to an Indian restaurant which is actually closing its doors for the day but the proprietor agrees to serve us upon the condition that we listen, at length, to the story of her Christian calling to Malawi to preach at a Pentecostal church. The experience is a bit surreal as we listen to this Indian woman relay her story in a huge, empty restaurant in Malawi. We marvel at the passionate commitment to her faith however and we wonder what it is that may stir the same level of passion within ourselves. We all agree that it is not cycling! When we reach the TDA campsite it is raining hard and the thought of pitching a tent is dreadful. The only other option is a small dorm room with 7 people, 4 of whom we have never met. The room is next to a bar with a loud group watching football (soccer) and I find myself wondering again, how much more of this I can take.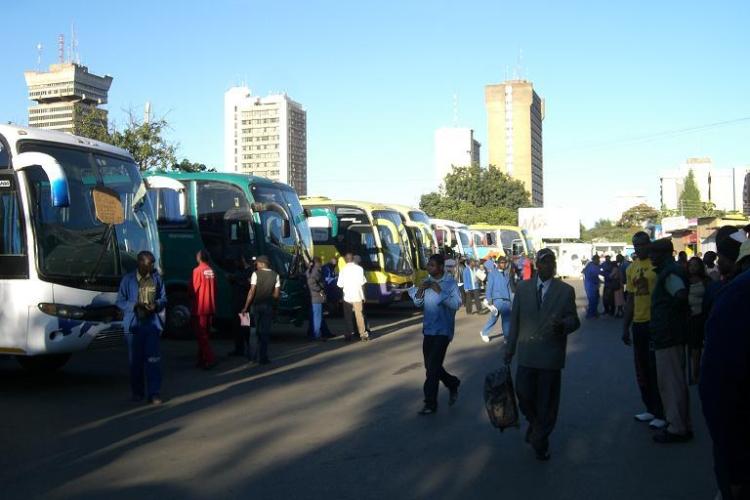 Mar. 31- day 81- Nkhata Bay to Mzuzu- Today we pack up and take the hour long taxi ride back to Mzuzu. Unfortunately we have to spend a night in Mzuzu rather than in our little found paradise at the Mayoka lodge on Lake Malawi. The bus that we have to take for the 7 hour ride to Lilongwe to catch back up with the tour leaves very early in the morning tomorrow and we can't miss it.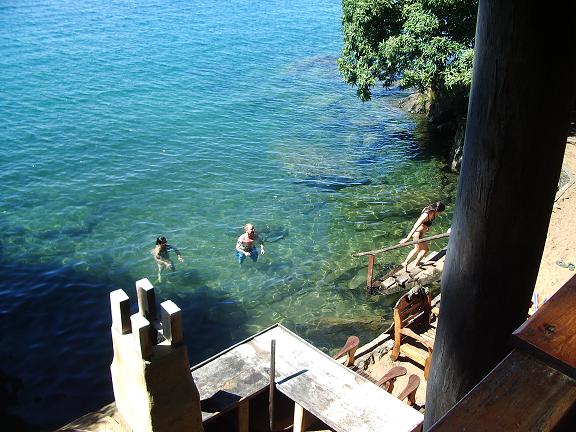 Mar. 30- day 80- WHAT'S NEXT- Today I met an interesting woman named Miriam who is also staying at the lodge. She is a volunteer teacher at a school near Nkhata Bay for 6 months. She is a New Yorker who has lived in Rome for the past 25 years. She left her long time career as a journalist because she was tired of it and has discovered that she loves teaching. I admire her for taking a risk and by chance finding a new calling. One of my reasons for joining this tour is that by chance I will come to know what is next for me. We shall see.