Mar. 27- day 77-Chitimba to Mzuzu-137 km- I'VE HAD IT- Today I chose to ride the truck in the morning, help prepare the lunch and then ride the 67 km from the lunch stop to Mzuzu. The town is much more prosperous than I had anticipated and I'm happy to find a room that is available after the tedious battle with ants in my tent the night before. I'm feeling more and more like I don't want to be here so anything I can do to make it through until Jay arrives on April 23rd I need to do it. I miss him terribly. At the daily pre-dinner talk, Shanny, the expedition leader since Randy left in Tanzania, congratulates the group on a hard day reporting that 90% cycled the entire day. This is not unusual, a pat on the back for those "going the distance" and excluding those who don't. Well today it hit a nerve in me and I lost it. The measly 67 kilometers in a headwind on a mountain bike that I accomplished doesn't even deserve an honorable mention on the TDA tour. I kvetched using expletives to those sitting on the curb eating dinner around me. I'm pissed and I've had it. I retreat to my room and call Jay and tell him I want to come home. He's getting excited to meet me in Namibia but understands and will respect whatever decision I make. The news of my discontent reaches Shanny and he visits me in my room to talk. Fortunately my old pal Earnest has researched a little get-away lodge on Lake Malawi with rooms for $17 a night. He and John and I decide that another break from the group is in order so I'll have a few days to think it over, away from the daily grind.
Mar. 26- day 76-Chitimba rest day- TOYOTA, LIVINGSTONIA AND ANTS- Meals are not prepared by the TDA staff on rest days so a group of cyclists affectionately referred to as the "French Connection" take the initiative to prepare a scrumptious breakfast of French toast, sausage, fresh pear compote fruit salad and caramelized nuts. Oh my God now we're talking! After breakfast a group of 8 cultural history seekers hire a driver with an old Toyota truck and a "guide" to escort us over steep, rough, rocky roads to the town of Livingstonia set on a mountain top overlooking Lake Malawi. The town is named after Dr. David Livingstone, a missionary and explorer who, among other things, was the first European to see Victoria Falls to which he gave the English name after his Monarch. His meeting with H.M. Stanley, after years of searching, gave rise to the famous quotation "Dr. Livingstone, I presume?" The bouncing and often painful ride in the bed of the truck begins with much laughter from our group. Each leg of the Tour d'Afrique has had 2 writers sponsored by Tony Wheeler, the founder of the Lonely Planet travel guide books. On this section of the tour as well as on this wild ride up the mountain we have the pleasure of Tony's company himself. I really enjoyed listening to his stories about the upstart company back in 1972 and of some of his and his wife's adventures along the way. We stop for lunch at The Mushroom Farm, a quirky getaway lodge with a vegetarian restaurant on the mountain with drop-dead gorgeous views of the lake and surrounding mountains. Upon return to the camp we pay our "guide" the agreed fee to avoid a scene though zero guiding services were actually provided. When we registered a complaint with him he seemed stunned and confused. Somehow the concept of a fee provided for actual services was eluding him. Back at my tent I'm confronted with an enormous ant infestation which has found its way to the little snack foods that I keep there. The entire remainder of my rest day is spent pulling everything from my tent and methodically stripping the little buggers from all of my stuff. Somehow they've actually made their way into sealed bags…YUCK!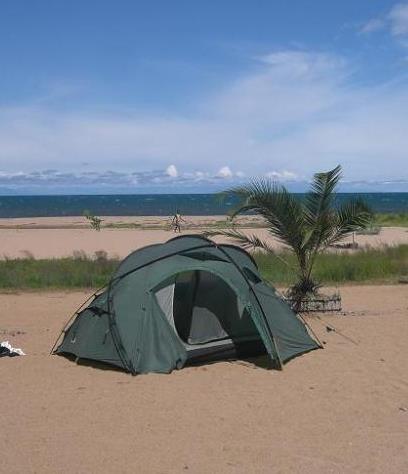 Mar. 25- day 75-Bush Camp to Chitimba-123 km- LOCATION LOCATION LOCATION- You simply can't go wrong with waterfront property as we've seen in the real estate business back home. Lake Malawi is the 7th largest fresh water body in the world and our camp site tonight and our rest day tomorrow is located on one of its sandy beaches. I can't help but be gratefully reminded of my own slice of beachfront back home in the Indiana Dunes on the sandy shores of the 3rd largest fresh water body, Lake Michigan. This looks like a nice place to hang for two nights but I've missed the opportunity to rent one of the huts on the beach since the faster riders got first dibs. I've had more tent life in the last 75 days than I've had collectively in my entire life and it's tiresome.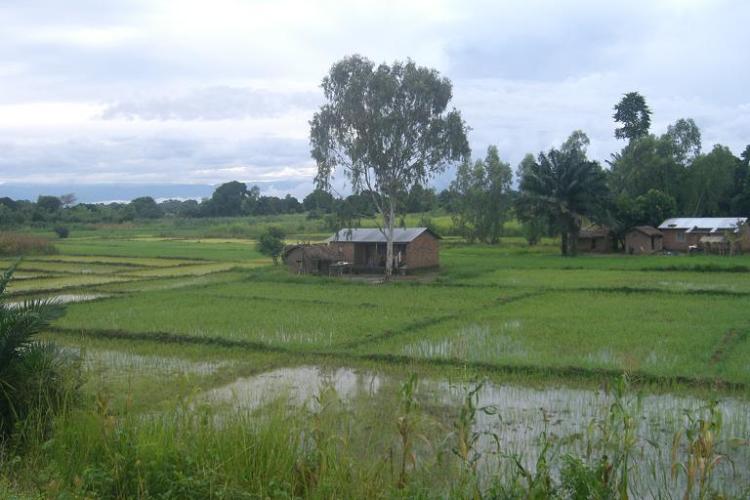 Mar. 24- day 74-Mbeya to Bush Camp-120 km- SWAMPY CREATURES IN THE NIGHT- As border crossings go this one from Tanzania into Malawi is seamless and easy. No visa is required and no fee is collected which is a first on this African expedition. The last 15 days of lush hills and mountains changes almost immediately to swampy plains with rice paddies. The culture changes just as instantly from the wide shy smiles of Tanzanians to the somewhat aggressive begging techniques of Malawians. Our small campsite is almost immediately surrounded by hundreds of children and as I attempt to read a group of them huddle around me and try to read over my shoulder; so much for trying to relax before dinner.  A new tone has been set for the Malawi experience; be on the lookout for thieves. The frogs serenade us as we lay perspiring in our tents in this swampy outpost and several of us have possessions, which have been placed in our tent vestibules, removed by 2 legged creatures in the night.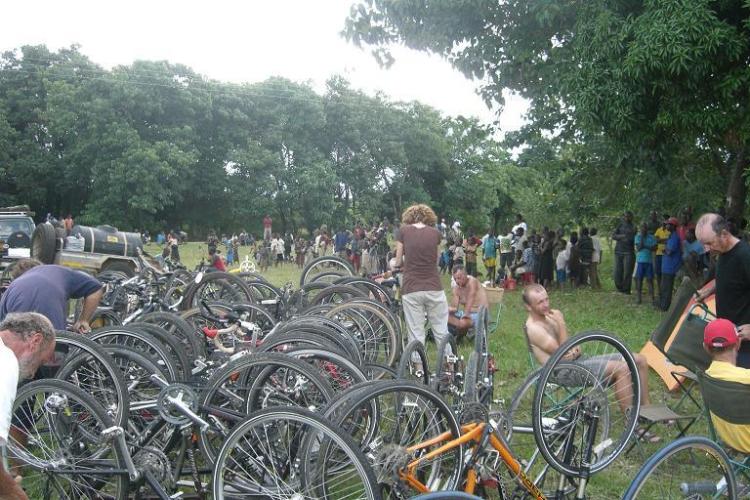 MALAWI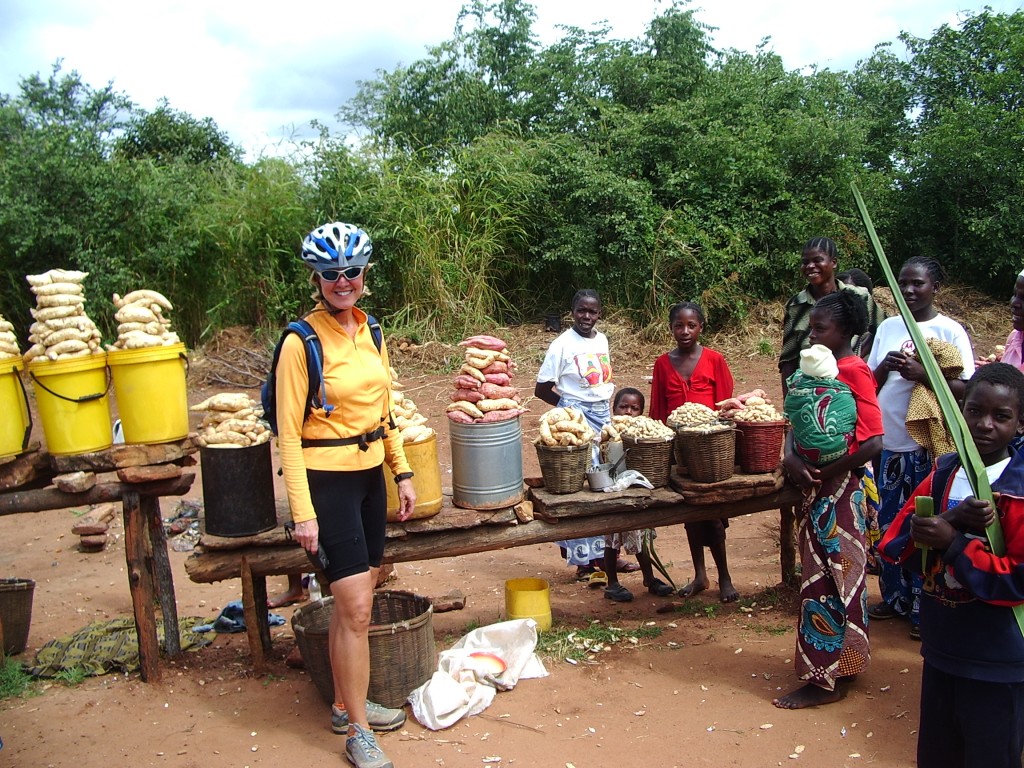 Mar. 23- Bush Camp to Mbeya -95 km- 6 ½ WEEKS- I'm wondering if I can take another 6 ½ weeks of the whole routine until we reach the finish line on May 9th in Cape Town. It is becoming more and more monotonous. What on earth am I doing here? I've traveled with others in Africa often on tours of my own design to raise funds for the NGO Global Alliance for Africa. I try to book our groups in small intimate lodges set in natural surroundings so the people can feel connected to the areas they're visiting without too much discomfort or inconvenience. This four month budget trip however is a far cry from that. I eat standing up; I share toilets with dozens of people and frankly it's becoming very tiring. As I mentioned before the tour caters more to the passionate cyclist whose emphasis is on speed and how long they can stay in the saddle. Those who cycle the fastest and the longest are rewarded by the good ole' boys club with a plaque, a round of applause and a slap on the back. Those of us who don't fit into that category are tolerated at best. Certainly there must be a way to acknowledge the progress of all of the paying customers. Maybe TDA should reexamine their definition of an acceptable rider profile. Maybe it shouldn't include people mike me. Maybe their riders and revenues would decrease. Maybe there wouldn't be disappointed customers writing blogs such as this. Maybe in 6 ½ weeks I won't give a damn!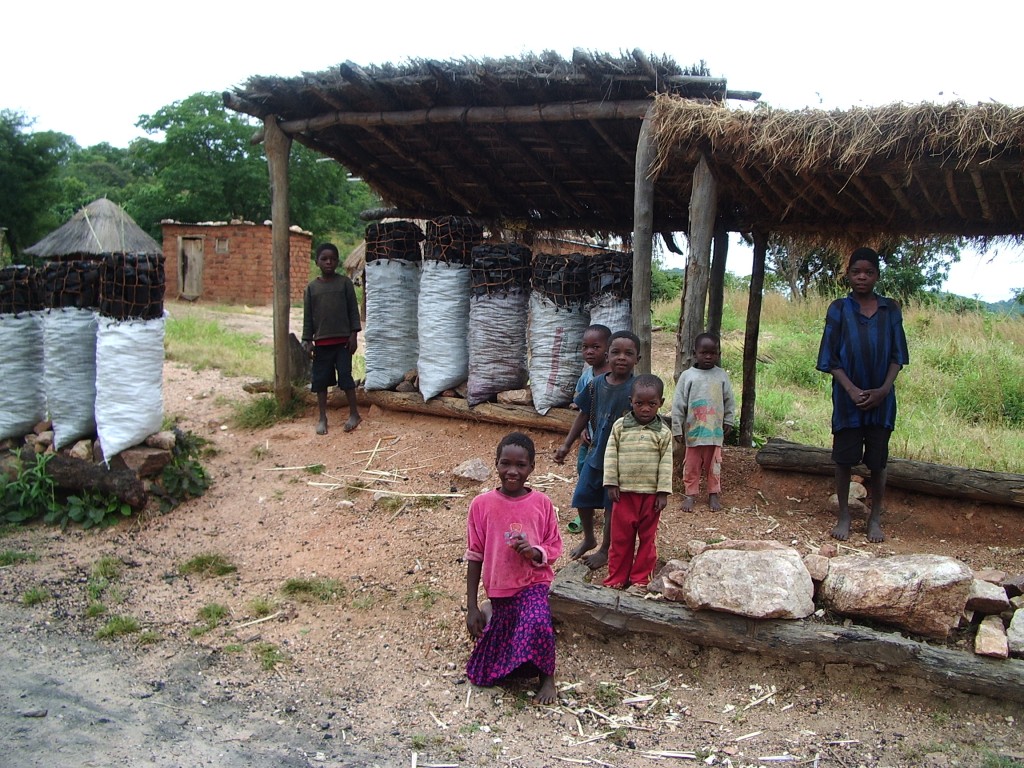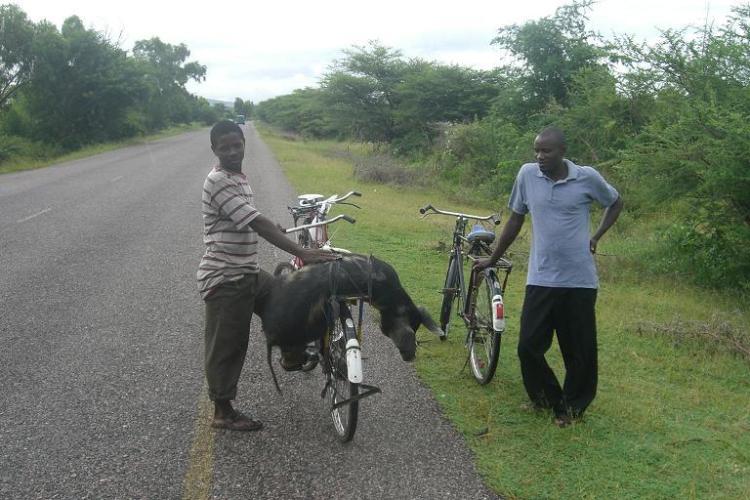 Mar. 22- Forest Camp to Bush Camp-130 km- HIT & RUN- I'm in the minority but I miss the rough roads. I need the maximum pressure in my tires so they'll roll a little easier on these paved roads but the TDA pump/tire gauge is broken and mine broke a long time ago in the first few days of the tour.  Getting a mountain bike up a long incline is like pushing a tractor and again I slip into the back of the pack. Both the lunch truck and the dinner truck pass us in tandem which is quite unusual. Then I learn from the next cyclist to pass me that Werner was hit by a passing truck shortly after departing camp and had to be rushed back to the hospital in Iringa. Werner is a great man and a selfless rider. Back in Egypt when I was struggling so much he slowed down one day in a headwind and allowed me to draft him for about 44 kilometers. He's the one who collaborated with the YMCA in Khartoum to help provide meals and education for child refugees from the Darfur region.  Later we learn that Werner has also broken his arm and will have to be leaving the tour. I'm deeply saddened by Werner's accident and now I have an increased level of anxiety and tension worrying about his condition and my own safety.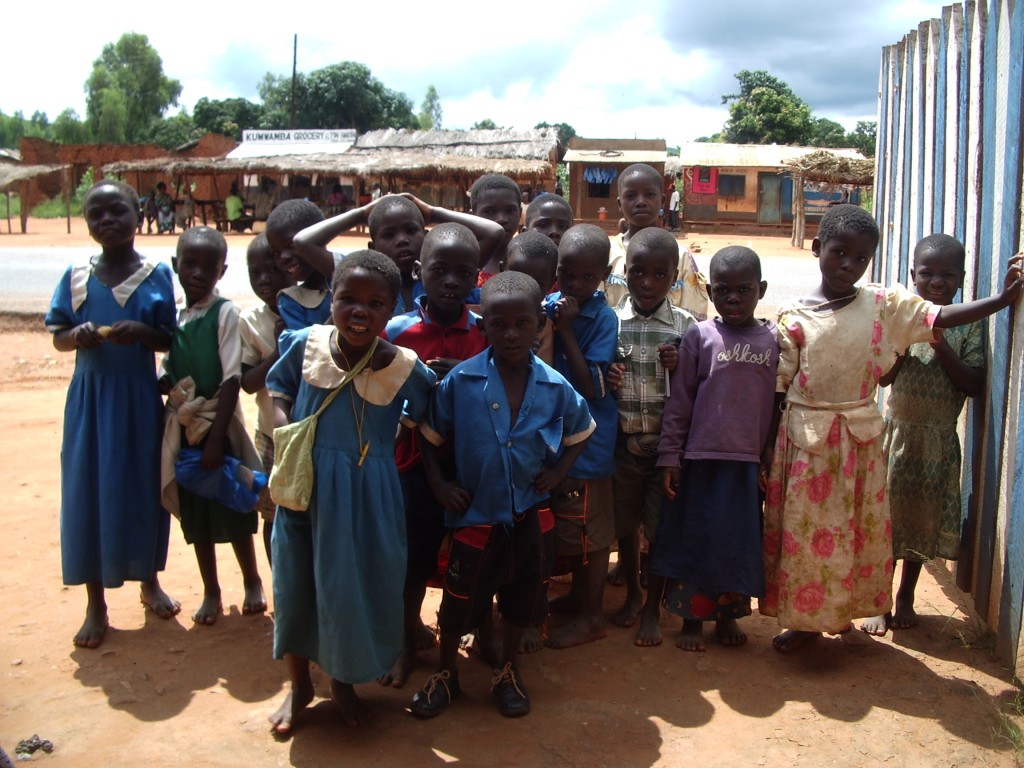 Mar. 21- Iringa to Forest Camp -100km- HAIL MARY- We're back on the pavement again and most people are thrilled but we're back into the traffic as well. It's probably sounding like a stuck record by now but its huge trucks and busses blasting past with little regard for our safety. After lunch dark clouds roll in and it starts to rain.  Though some of the riders seek shelter I decide to push on. I chose not to wear my raincoat and I'm getting pretty thoroughly soaked. The raindrops are getting larger and colder when I realize I'm in a hail storm. I know I'm close to camp but by now the trucks are splashing waterfalls over me and I'm getting more and more chilled. Finally I spot the finish flag and I ride up a muddy tree lined road to the campsite. Some of the riders are huddled, shivering under the kitchen cooking tarp waiting for the truck to arrive with dry clothes. We are served a delicious, hot, hearty mushroom soup prepared with fresh mushrooms from the Iringa market. I have to admit that the concern about hypothermia is a new one on this expedition.