Feb. 12- I CAN'T MAKE IT- Forest camp Cgar camp- 89 km- The morning ride was all uphill but after lunch we descended 1860 meters down into the Blue Nile Gorge. It's like a mini Grand Canyon. With switchbacks almost all the way down. Fortunately they have just finished paving the road so it's smooth. Last years riders had to do it through road construction. Some of the riders are reaching speeds up to 65 kmh absolutely flying down the hill; not for me though. I'm probably riding my brakes too much but the thought of being splattered across the pavement is not my idea of a good time. On the road I see several women carrying huge bundles of wood on their backs bent over like beasts of burden going up the mountain. What a life they have, and here I am riding along with my high tech gear and clothing worth more money than they will probably ever see in they're entire lives. Well after the long exhilarating descent, as you might figure, there is now a long climb (1881 km). It doesn't take me long to realize there's no possible way I can make this climb. I walk my bike a couple kilometers when the TDA truck comes by and I give them the thumbs down which is the "I can't make it" signal. Well the road is so steep that the huge truck can't even stop there because it's too steep for it to get going again!  After the truck passed us, John and I hitched a ride in the back of an empty truck bed. We threw our bikes in the back and climbed in. I told him he was lucky to be with some T&A or he'd still be out there waiting for a ride with his skinny legs and his white beard! John is 70 years old and is another rider from the states He lives in Houston. He's one of the riders I find myself with a lot because we're close to the same speed. He's actually stronger than me and can ride uphill for longer periods but when we're both on the road at the same time we ride together a lot. It's an 1881 meter climb and we laughed a lot as we passed our sweating comrades while they pushed forward up that last steep climb. I am so impressed by some of the athletes on this tour. They're actually holding time trials for this climb segment and they are just burning up the hill. I think John and I had the best deal of everyone: a spectacular descent down into the Blue Nile Gorge and then a lift up to the rim again.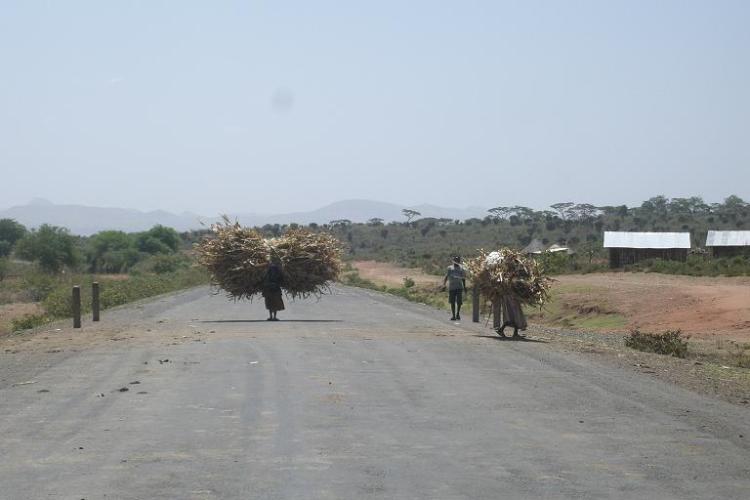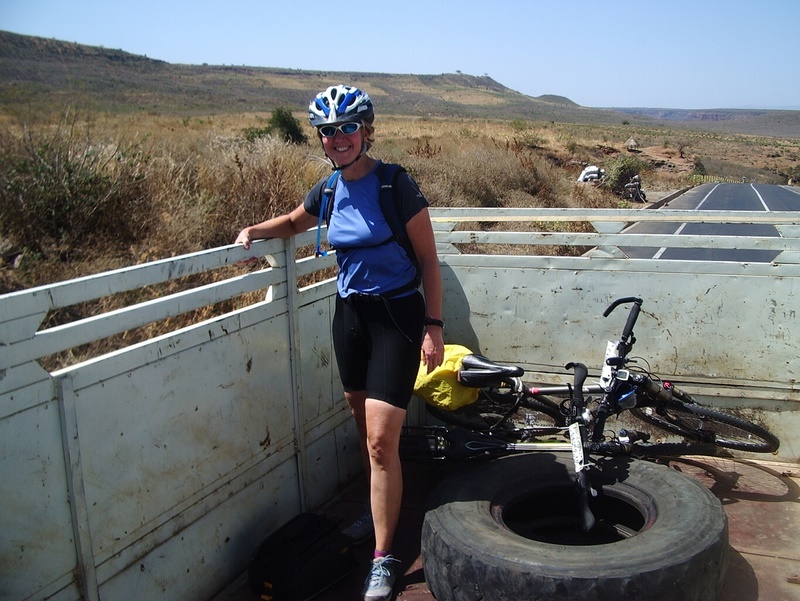 Feb. 11- THE CIRCUS ONLY COMES ONCE A YEAR- Bush camp to forest camp 118 km- The first 30 km today is a blast, all downhill! We bottom out in the Blue Nile valley and then it's back to the uphill grind…UGH. Ethiopia is nothing but hills, hills and more hills. Several days I'm only riding a half day and taking the van the other half. At our camp in the forest we are unable to rope off the site and there are children darting about like munchkins in the forest. It's almost as though we're camping in a school yard with hundreds of uniformed children running about squealing and chattering. Our Ethiopian guides are constantly scolding and chasing them off. As one of the other riders said "the circus only comes once a year and they are definitely NOT going to miss it."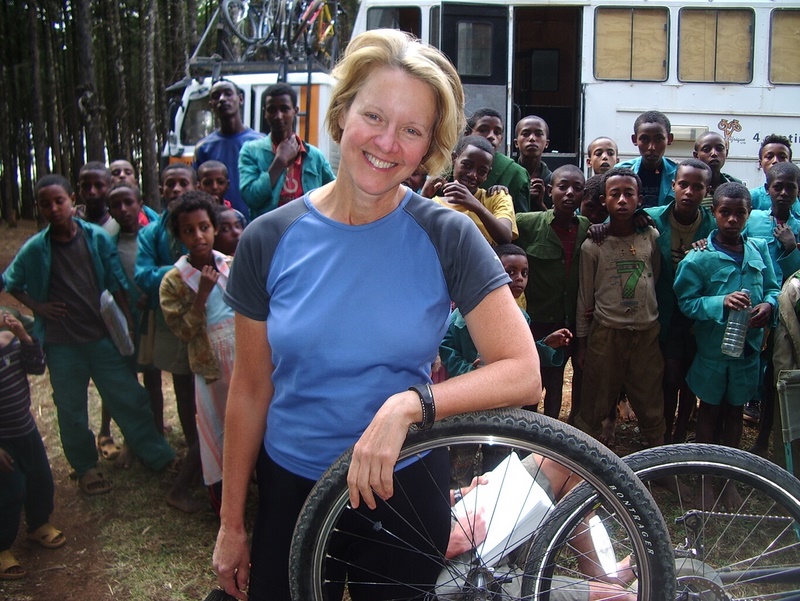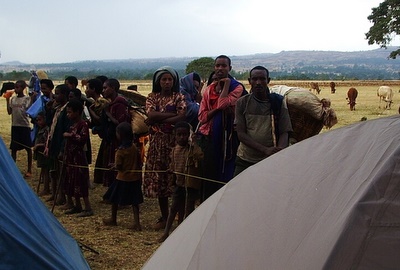 Feb. 10- MONKEYS IN THE ZOO- Bahir Dar to bush camp161 km- Getting back in the saddle after a few days off is like starting over again. I'm really struggling with the climbs and my pounding heart and breathlessness are reminders that I really didn't prepare enough for this expedition. In the morning the children are less likely to throw stones as they are on their way to school. In the late afternoon as we approach our camp there is a cattle drive and we're among the cows. Where we make camp we have to rope off our site to stem the flow of constant harassment and theft. There are dozens of onlookers surrounding the camp watching our every move. They're completely intrigued. How strange it must be for them to watch the show we're putting on. People like they've never seen doing things they've never seen with objects like they've never seen. We're encircled by an orange nylon rope with throngs of onlookers craning their necks to watch us like monkeys in a zoo.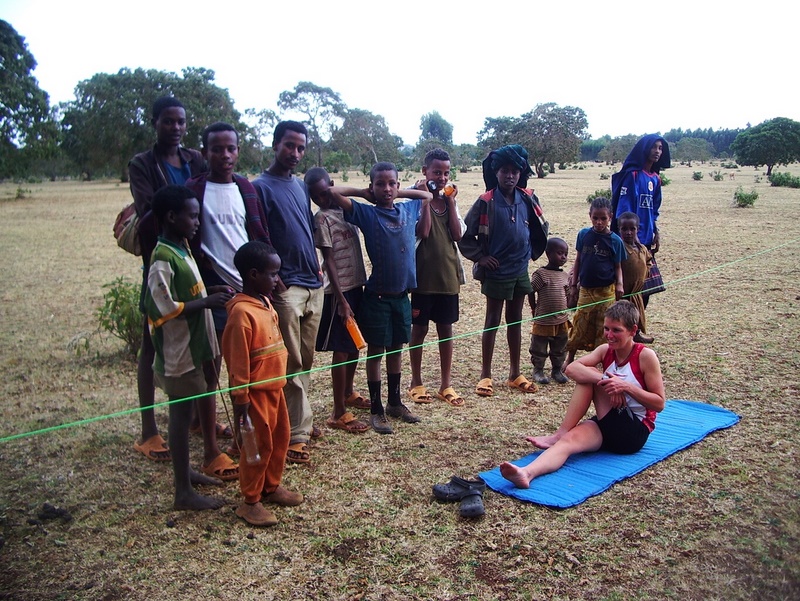 Feb. 9- The 10 ½ hour return drive wasn't quite as bad. We knew what to expect, and we also got a very early start so we were driving in daylight. The roads were still treacherous but the rock landscape is stunning. We arrive at about 5 p.m. to the college town of Bahir Dar, on Lake Stana, in time to explore the town. I eat dinner at the Obama restaurant and have a great chicken pizza. I admire the entrepreneurial spirit of its owners. 
Feb. 8- ANCIENT STONE CHURCHES- Fortunately our hotel is pleasant and the meals are great after yesterday's road grind. There's even a coffee stand which is lovely. Lalibela is referred to as the second Jerusalem with 12 ancient Orthodox Christian churches that have been carved into the ground out of solid rock. It has often been called Africa's Petra, which is in Jordan. The churches defy logic: How could it be done, and why would anybody do it? These enormous rock carvings are really quite stunning though. The town has a "holy" feel to It; calm and prayerful. We spend the entire day and one more night in Lalibela.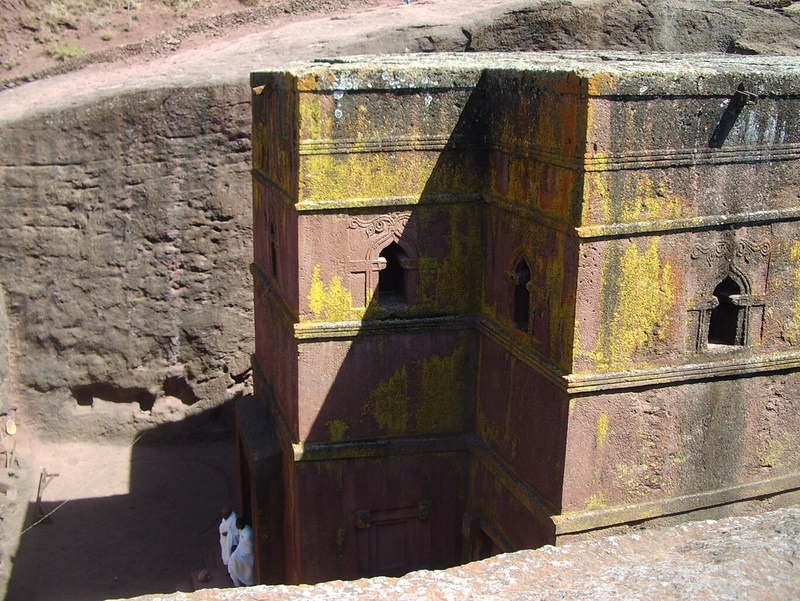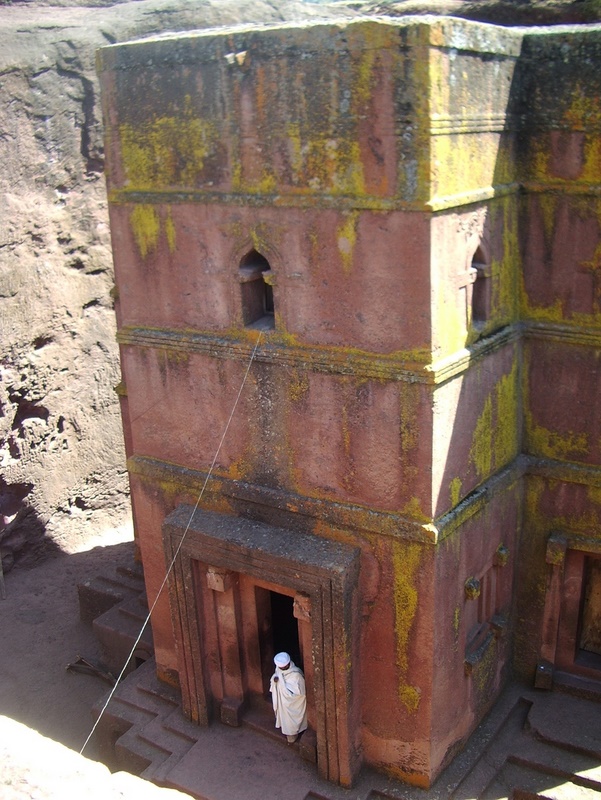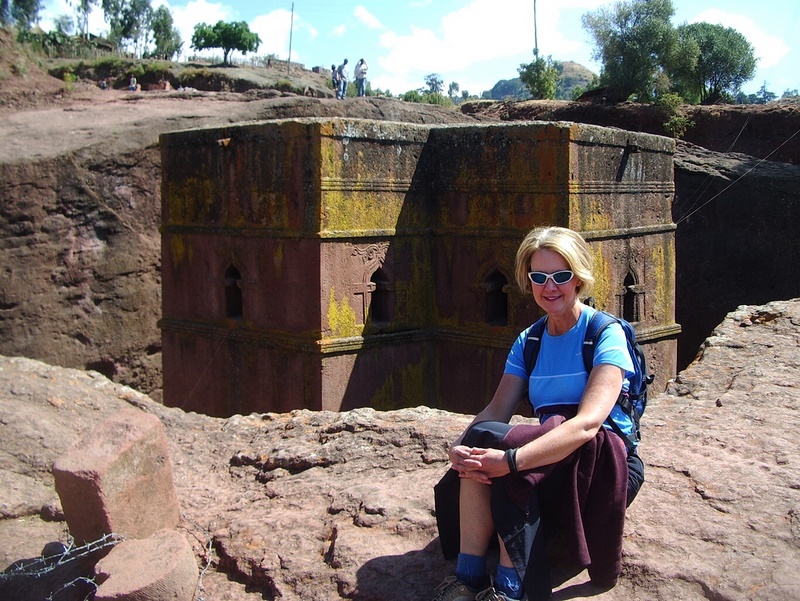 Feb. 7- Today Helen, Siobhan and I decide to take a side trip to Lalibela, considered a holy city with some historic old churches. We book a trip with an Ethiopian travel agent and jump into a minivan which we understand is taking us to the airport for a short flight. We're driving for quite some time when it becomes apparent that we're in fact not going to the airport but being driven the entire way to Lalibala. This realization is just the beginning of a 12 hour fiasco of almost comedic proportions. Several hours into the trip we get a flat tire and pull over to change it except there is no spare. We're in the middle of the Ethiopian desert on a fairly deserted road; the situation does not look good. Unbelievably a car stops and takes our driver and the tire off to be fixed. There is a truck stop "nearby" and the tire is repaired. The whole incident took about 2 hours, which is a miracle considering we're in the middle of rural Ethiopia. The road is rough as hell and we are dog tired and rattled to the bone. It is after midnight by the time we finally reach our destination. I'm not sure which is worse, cycling 7 hours or riding in a van on Ethiopian back roads for 12 hours.
Feb. 6- TALES FROM THE FRONT- Gondor Rest Day- What has created a population of rock throwing, havoc bound beggars? Has the international community created a dependent population with well intentioned but ill conceived and executed aid? Everywhere we go we are surrounded my dozens of children and some adults shouting "You, You, You! Money, Money, Money!" This is so unfortunate for the future of tourism in Ethiopia. It is a physically beautiful country but this experience for 50 cyclists from 10 different countries, many of whom are writing blogs or bringing home stories from the front, I'm afraid will not be positive. I can't help but wonder what will become of all of these begging children? I have remained involved as a volunteer for Global Alliance for Africa because sustainability with its African partners creates pride in self sufficiency rather than dependency which is created by handouts.
Feb. 5- Mountain camp to Gonder 109 km- Today is an insane, single day, endurance test slipped into a 4 month long cross continent bicycling expedition. This is the kind of event for which most athletes train for months, do it, and then go home (not keep riding for 3 more months!) The terrain is mostly gravel and rocks with some unexpected pavement and the total elevation gain is 2,400 meters. That's about 5 Sears Towers!  Based on my performance yesterday and the description of today's ride I've concluded that today's "itinerary" does not match my ability. The brave souls who attempted it also had to deal with droves of rock throwing kids, a stick in the spokes (which threw the rider off the bike) and a punch in the face. Some would pull on the back wheel bags as the riders struggled up steep hard climbs. Many tried and many rode the truck for part or all of the day. I am deeply impressed by the fortitude of those who rode today.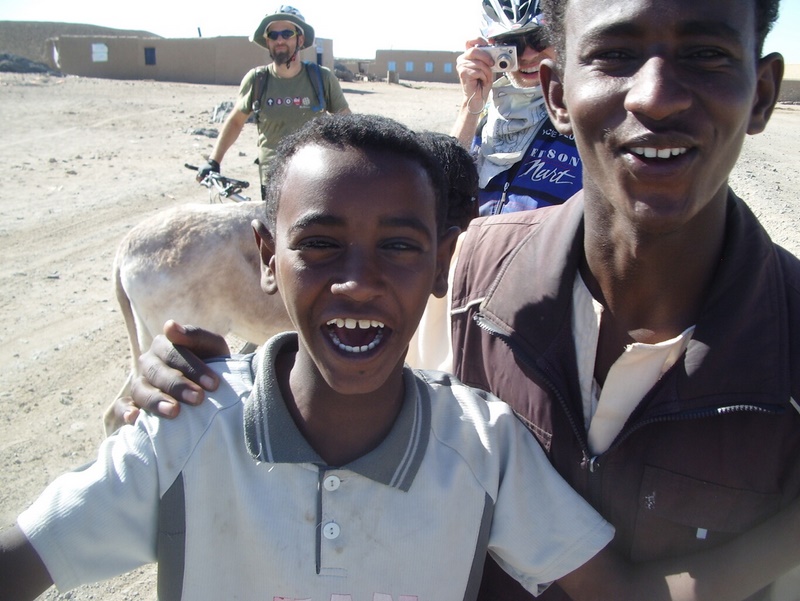 Feb. 4- Matema to mountain camp 98 km- Even though we leave this border/shanty town early, the dirt road (which resembles hardened brain tissue) is teeming with people, donkeys and trucks and is eerie with the sun rising, the smoky air and the music is already blaring. I can't imagine a movie set any seedier. I don't know why I keep likening these scenes to movie sets, I guess it's because they're so far from my realm of experience. This is wild though, the real wild Ethiopia! The cycling terrain is hilly and a nice change from Sudan. We've heard that Ethiopia is known for rock throwing, even more so than Egypt but so far the villages are friendly. There are so many kids in the streets though, all running up to us and shouting "You, You, You, You!" that it creates a bit of tension. My cycling mate is grabbed by a man and she lights into him with a tongue lashing. We're still attempting to ride in groups to limit our vulnerability but we have to be constantly alert.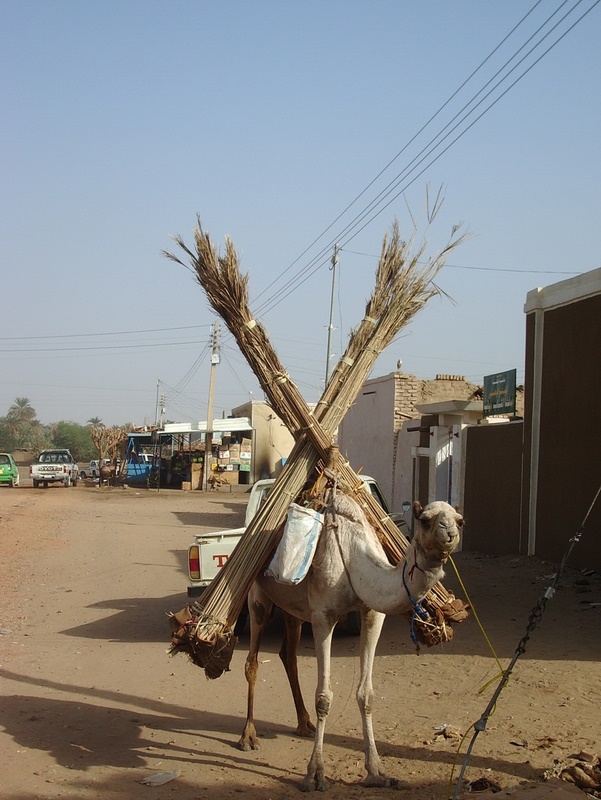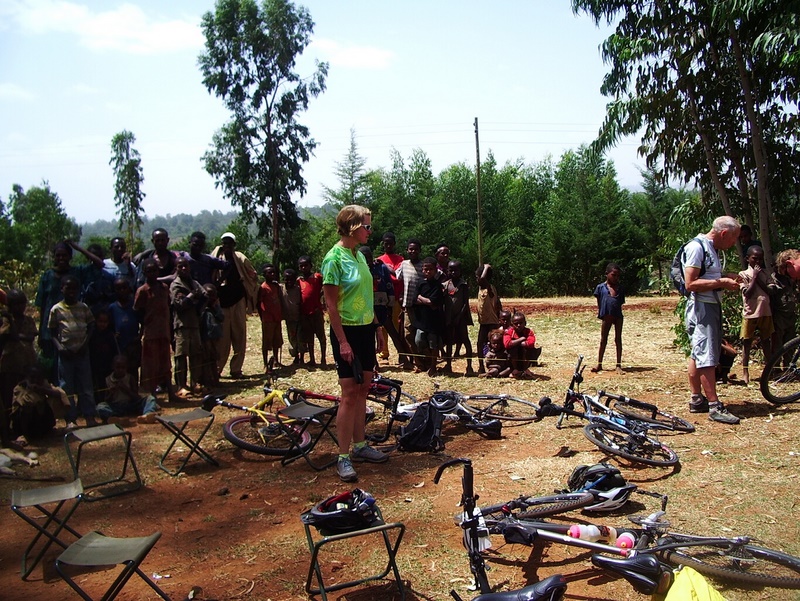 Feb. 3- PURE LUXURY- Gedaree to Matema 152 km- I experience this day actually riding on the dinner truck with the staff that make this all possible for us. It's a pleasant drive through the countryside and we stop at a local farm for water and watch the calves mulling about. I have a long talk with Randy and Erin and I'm feeling better already. As we cross the border into Ethiopia, again there is a distinctly different feel to this place. It's only a line drawn on the map but suddenly the hustlers are emerging from huts positioning themselves for the kill. The immigration office is in a tin and wood structure with chipping green and purple paint that must be repainted each year after the rainy season. Now there's only five of us in this truck yet it takes the immigration officers about 45 minutes to process us, sifting through their hand written ledgers looking for our authorization. I look across the street and wonder why Wimpy (pronounced Vimpy) our driver is laboring so about the exact position he's parking the truck on this site that appears to be surrounded by a garbage dump. As it turns out this is the campsite! Oh joy. I'm recruited to guard the bikes and bags under a tree teeming with flies. A group of money changers and miscellaneous Ethiopians are gathered around trying to get a glimpse of the foreigners, called harenjees (spelled phonetically) or a chance to make a buck. I'm writing this as they surround me, along with the flies. After everyone grabs their gear I buy a shower at a restaurant/hotel/brothel (I'm not kidding!). I wash the grime off of me in this corrugated tin shack where I can see chickens pecking the ground through the cracks. The cool water is absolutely luxurious…wait, did I really say that? Showering in a brothel in a tin shack where I can see chickens through the cracks and camping in a garbage dump is LUXURIOUS?! Wow, this trip IS changing me.