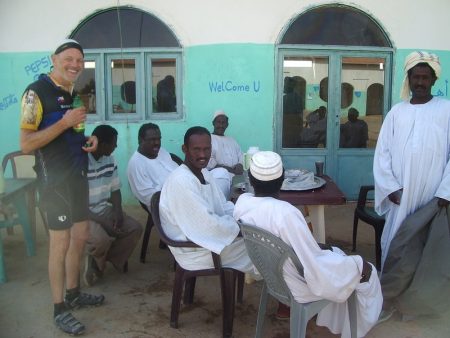 Jan. 28- POLITICAL ENCOUNTER- It's my husband's birthday. Happy birthday Jay, I really really miss you. The ride is 157 km today, that's almost 100 miles folks, jeez this is nuts! The stark desert beauty is growing on me though. There's a family of camels snacking on a tree, goats, donkeys and curious people. Today at a Coke stop I walked into a political conversation. Oh boy. When the shop owner found out I was American he asked if I thought it was right that we bombed so many people and places in Iraq. He did ask sincerely and politely. I said that I personally didn't think the war was just and that it saddened me about all of the innocents that were killed or injured in the conflict. I said that many Americans felt the same as me and many protested the war. I also said that George Bush was elected by the people though and that we have a system that calls for a peaceful transition of power even when we don't agree with the leaders. I also told him that Americans were told lies about Iraq and many were genuinely afraid. Later I was told that before I came into his shop he was saying that the Jews perpetrated 9-11 because "no Jews were killed in the twin towers." Gee, he's misinformed and biased as so many of us are and therein lies the very sad ongoing problem which promotes the violence.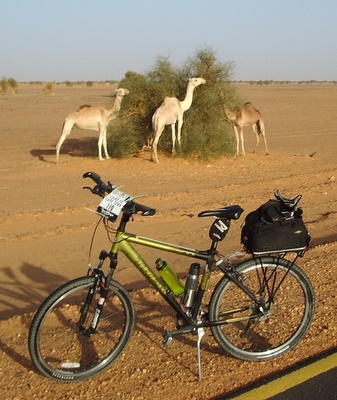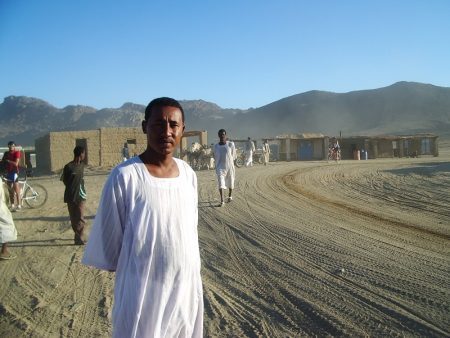 Jan. 27- EXHIBITIONISM?- It's another 142 km today but I'm a little sicker and kind of spent from yesterdays long ride. We slower riders are exposed to more sun, heat and saddle soreness. Though I got on the truck after lunch I am happy with my progress. I'm just not getting caught in the herd/ego-driven mentality. The racers seem o.k. for the most part but some "in between" riders seem to be pushing themselves to the point of not having a good time. At a Coke stop today I notice that all of the men inside are wearing the traditional desert dress of long white garments and turbines. I put on a sarong that I carry on my bike to cover up politely in front of the men. We have some polite conversation but when I leave I have to take off the sarong to get back on my bike. A group of about 10-12 young boys are staring at me dumfounded from the waist down. At home It would probably be analogous to a woman walking into a restaurant wearing nothing but a g-string and some pasties!
Jan. 26- I rode 142 kilometers (that's about 90 miles) today in 7 hours! The combination of good roads and a bit of a tail wind makes all the difference in the world. I felt very energetic today after our rest day yesterday even though I'm coming down with a bit of a cold I think. My throat is sore and scratchy.