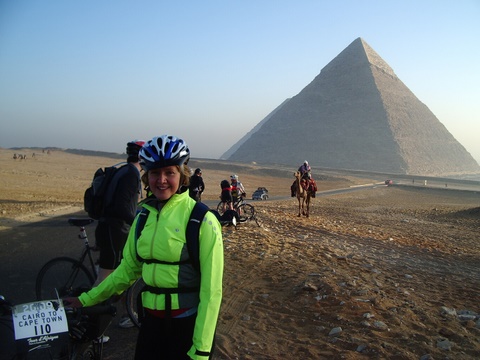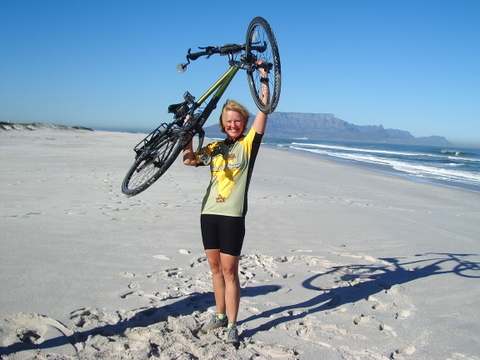 The 2009 Tour d'Afrique is finished. We began the 7300 mile cross continent cycling expedition on January 10 in Cairo, Egypt with a dramatic spin off at the base of the pyramids. We completed the tour on May 9 in Cape Town, South Africa on the shores of the Atlantic Ocean with Table Mountain as the backdrop then onward with the victorious 20 mile cycle to the famous waterfront where a ceremony awaited us.
I've written some reflections of the tour here. Older entries can be accessed below this post beginning with the latest or If you'd like to read posts and see photos in chronological order the blog is now organized by county…all ten of them. Click on any country to the right to find out more.
If I have any disappointments it is regarding the results of my fund raising campaign for Global Alliance for Africa. I have fallen dramatically short of my aggressive goal of $73,000. These tough economic times are a formula for fear and I know the results would be different if we in the land of plenty felt more secure at home. For those of you who found it in your hearts and pocketbooks to contribute, I cannot thank you enough. If anything was confirmed for me on this unfathomable journey, it was my belief that the best way to help those in dire need is by helping them to help themselves and Global Alliance for Africa's business model does exactly that. Unfortunately, we experienced the dreadful unfiltered version of what dependency producing AID creates in Ethiopia.
So…the Tour is complete, but it is not over. My hope is that more people will read about this journey I made on behalf of Global Alliance for Africa and will continue to contribute in a way that works!
REFLECTIONS OF TDA 2009
For those of you who have taken an interest in "Cycletherapy" and read my perspectives about the 2009 Tour d'Afrique, you probably have some insight into the depth of the odyssey as it unfolded during our expedition across the continent of Africa on bicycles. I wanted a "Radical Sabbatical for Africa's Orphans" and that is without a doubt what I got!
Post TDA, while Jay and I relaxed and explored South Africa's Western Cape in beautiful Cape Town and the surrounding areas, I had some time to reflect and attempt to put into perspective what I had actually experienced and endured for 120 days. We lived an epic, nomadic journey, traversing 10 African countries on bicycles far removed from the creature comforts of home.
I realized early on in the tour and admitted half jokingly that "I'm not TDA's demographic." I may have my issues regarding some aspects of the TDA management system, but I am certainly clear on one thing; TDA delivered an authentically uncensored adventure in the true sense of the word. This was the real deal, not a phony adventure travel experience manufactured like a neat and tidy predictable franchise. This was an undiluted survivor series without the film crew, the make up artists, stylists or script writers.
I must say that South Africa's lovely wine country was a perfect place to decompress. Over many glasses of wine I saw the experience flash before me like a quick slide show reduced into segments and sound bites. During my wine induced state, reflections of the collective group experience appeared before me!
HEALTH AND PHYSICAL WELL BEING
Broken ankle, broken arm, severed artery, numerous road burns, cuts, aching body parts, shattered elbow due to a truck hit and run, bruised elbow due to truck side swipe, sprained ankle, cracked open forehead, sore throats, severe respiratory & nasal infections, fever, severe diarrhea, vomiting, dehydration, heat exhaustion, typhoid, malaria, unidentifiable conditions causing weakness, fatigue, heat rash, saddle soars, infected mosquito bites, infected surface wounds, snake bites, skin worms, kidney stones (passed).
MENTAL CHALLENGES
Homesickness: missing family, friends, pets, comforts, familiarity, monotonous routine & daily cycling, remaining enthusiastic to keep on going, remaining positive, loneliness, boredom.
PERSONAL RELATIONSHIPS
Living in unusually close quarters with 60 strangers for 120 days; sharing, helping, being polite, forced togetherness, competition, backstabbing, gossip, resentment, irritation, group dynamics: need to fit in, expectations, peer pressure, form support team, network, fondness, laughter, camaraderie, new friendships, love affairs, breakups, diverse viewpoints, backgrounds, nationalities, ages.
ROUTINE & PHYSICAL CONDITIONS
Rise before dawn, pack up sleeping bag, mattress pad, tent, clothes, dig a hole in bush for toilet, filthy overflowing non-operable toilets, waterless drop toilets, poor aim, no TP, no running water, water rationing, no bottle showers, wet wipes, cold trickle showers, filthy facilities, bodies, odors, campsites littered with trash, animal parts, cows, goats, feces, lines for: lockers, food, dish washing, drinking water; blasting call to prayer, blasting music, generators, automobile horns, exhaust, lack of private space & time, quiet, peaceful solitude while cycling.
WEATHER & ENVIRONMENTAL CONDITIONS
Extreme heat, sun, head winds, rain, hail, sand storms, cold, fog, frost, rainbows, sunrises, sunsets, clear starry nights, bright moons, deserts (4), mountains, forest, rainforest, cloud forest, scrub bush, plains, swamps, alpine desert, sand dunes, rivers, oceans, sea, lakes, ponds, delta, unfamiliar insects large & small, lizards, frogs, dung beetles, canibal bugs, ants, termites, spiders, flies, sand flies, mosquitoes, bees, hornets, crickets, snakes, rodents, thorns that can puncture tires, shoes & mattresses, diverse flora, flowers, grains, seeds, trees, plants, crops.
NATIVE PEOPLES
Scowling Egyptian men, armed guards, touts, rock & bottle throwing Egyptian adolescents, hospitable Sudanese, galloping camel desert herders, aggressive Ethiopian beggars, physical assaults with rocks, sticks, slapping, hitting, spitting, stealing, Samburu, Maasai, other tribes in bright attire, women with backs bent over carrying heavy loads, wood, crops, water, head balanced loads, barefoot, smiling, dignified, courteous, helpful, curious, friendly, generous, shy, poor, hungry, hopeful, hopeless, prosperous, welcoming, scornful, judgmental, unaccustomed to personal space, staring, relentless.
WILDLIFE (seen in organized safaris and also from bikes and in camp)
Zebra, wildebeest, buffalo, giraffe, kudu, springbok, impala, hyena, elephant, cheetah, leopard, lion, baboons, monkeys, boar, wart hog, crocodile, hippopotamus, black mamba,  variety of snakes, ostrich, owl, eagle, pelican, stork, guinea hens, countless birds
ROAD CONDITIONS
Smooth tarmac, potholed pavement, sand, deep sand traps, loose gravel, extreme corrugation, lava rocks, deep ruts, mud, large rocks, road construction, road blocks, detours, dust, exhaust, heavy, dangerous traffic, steep climbs, radical descents, no road at all.